Don't judge me. I've never seen It's a Wonderful Life. Never. I'm sorry. I love films, but for some reason this has passed me by, I'd like to watch it, but it's just never been on when I've had the time to sit and devote myself to it, not in 38 years. It's a shocker I know. I've not seen Frozen either. We're not big on Disney, never really have been. You hate me now don't you? Sorry.
In the spirit of sharing (and writing lists, because lists are good) I've decided to list my five favourite Christmas films…
5. Home Alone – your basic festive horror story/amazing adventure if you're 6 years old. It's horribly dated now, but worth a watch with the kids, just to see their faces when Kevin is defending his home from the burglers.
4. Bad Santa. I don't even need to explain why this is on my list. Love Bad Santa.
3. Kiss Kiss, Bang Bang – this is one of my favourite films of all time. Val Kilmer and Robert Downey Jnr being amazing. Ok so it's a bit violent and sweary, but it's funny, really funny. A little bit of Christmas noir for those who appreciate the dark.
2. Die Hard – because Christmas isn't Christmas without Bruce Willis in a vest. And it *so* is a Christmas film! Yippee ki-yay etc.
1. Elf. It's got to be Elf. I know it's a love/hate kind of film, but don't be a cottonheaded ninnymuggins about it.
I suspect in the next few years my list of favourite Christmas films will become a bit more child friendly. But until then I'm happy to have a Kiss Kiss Bang Bang/Die Hard/Elf Christmas film extravaganza. And remember… The best way to spread Christmas Cheer, is singing loud for all to hear.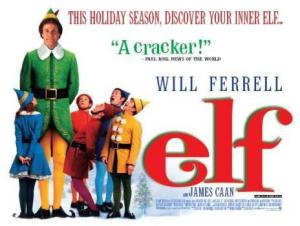 I'm attempting #Blogmas this December, so you'll be hearing more about my thoughts, feelings and festive traditions over the next few weeks.