Lasagne is one of those tried and tested family meals, something everyone will happily tuck into and perfect for sneaking a bit of extra veg into if you've got kids. I've taken things a step further, and for some think may be a step too far, but it's just as delicious and a little bit healthier. Stick with me on this. I use blended cauliflower instead of béchamel sauce.
Don't get me wrong, I adore béchamel sauce and find it to be incredibly easy to make and versatile, but, and here's the big but, it's just flour, butter, milk and seasoning and it doesn't count as one of your five a day.
Over the weekend I made our current favourite lasagne, generous portions of roasted butternut squash and parsnip, with handfuls of fresh baby spinach in a fresh tomato sauce, layered with lasagne sheets and topped with cauliflower sauce. It works, it really works and if you put enough cheese in it, it turns into an amazing lasagne-cauliflower cheese mash up.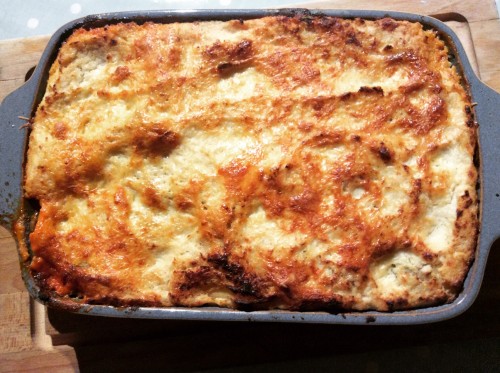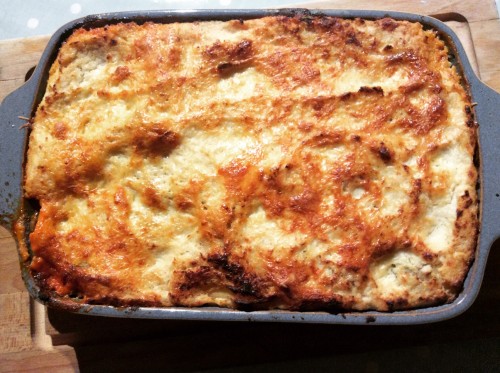 Cauliflower Lasagne Sauce
2016-01-12 15:04:59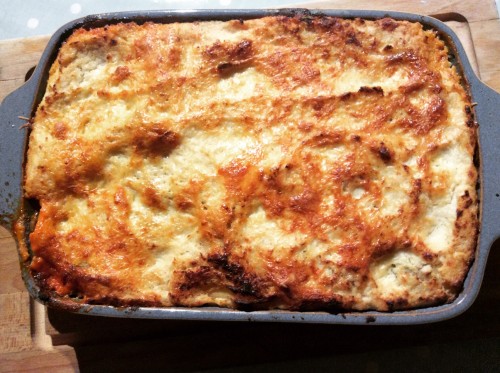 Sneak extra veg into your cooking with this delicious cauliflower lasagne sauce.
Nutrition Facts
Amount Per Serving
* Percent Daily Values are based on a 2,000 calorie diet. Your Daily Values may be higher or lower depending on your calorie needs.
Ingredients
2 cauliflowers
400mls milk (I used semi skimmed)
200g mature cheddar cheese, grated
Salt & Pepper (chilli flakes & grated nutmeg optional)
Instructions
Chop up your heads of cauliflower, they don't need to be in pretty florets as you'll be blending them, add as much stalk as you like, it's full of flavour. Boil or steam until cooked through.
Once cooked, drain and put into a blender (you may need to do this in batches), season generously and add the milk, blend until smooth. If you want a smoother sauce you can pass it through a sieve at this point and/or add a little bit more milk.
Whilst the sauce is hot, stir through the cheese and taste. Add more seasoning if you feel it needs any. Layer the sauce into your lasagne as you would do with your normal white sauce.
Notes
You can add as much cheese to the sauce as you'd like, I haven't added much at this point because I know I'll be sprinkling more cheese on top of the lasagne when I cook it.
I sometimes add a spoon of soft cheese with garlic and herbs which give it a nice background flavour.
I like to add chilli flakes to add a bit of a kick, and a touch of grated nutmeg because it just works.
HodgePodgeDays http://hodgepodgedays.co.uk/
I think my cauliflower lasagne sauce has lots of potential too, I can imagine it working really well in something like moussaka, it's such a great way to sneak extra veg into your life.
This recipe could easily be adapted for vegans too, just swap the milk for soy milk or similar and leave out the cheese.
Cauliflowers are incredibly cheap in the shops at the moment, so we're cooking with them a lot. This would also work well with frozen cauliflower. But not broccoli, broccoli is a step too far!
Have you got any tips for sneaking veg into your family meals?