Last week the stars aligned and a much needed good thing happened – I won lunch for two at Y Fabrica in Didsbury. Y Fabrica is where the Mud Crab Cafe used to be, it recently opened following a total rebrand and now specialises in serving a colourful menu of Californian and Mexican food. I decided to take my husband out for lunch, we don't get much time without the small boy, so we were looking forward to eating a meal without having to make small talk about Paw Patrol in between courses.
I'd been checking out the menu at Y Fabrica since it opened. I confess my eye was caught by the very decent looking cocktail menu, lots of tequila based drinks and with several twists on the classics, I know I won't be happy until I've worked my way through the lot. My first cocktail port of call was the Mai Thai Ting – a classic Mai Thai but served with Ting, like Lilt but better. Fruity, refreshing and the perfect foil for what was to come.
Y Fabrica has a big selection of "small plates" to choose from – like tapas but a bit bigger and heartier; as well as bigger plates such as burgers, lamb tagine and fried chicken (amongst others). As it was lunchtime we chose a selection of small plates to share. It's very easy to have a simple light lunch here, or order more small plates (like we did) and have a greedy Friday treat of a lunch.
We ordered the adobo pork belly taco with apple slaw, pico de pina and salsa verde and the roasted poblano and sweet potato taco with pickled red onion, refried beans and crumbled feta cheese.
On the side we had a Mexican pizza filled with black beans, avocado and mozzarella, topped with a fried egg (carnivores can have chorizo instead); guacamole and tortilla chips, grilled corn on the cob with chipotle mayo and Parmesan; tempura of calamari with black aioli and a stack of chargrilled sweet potato fries.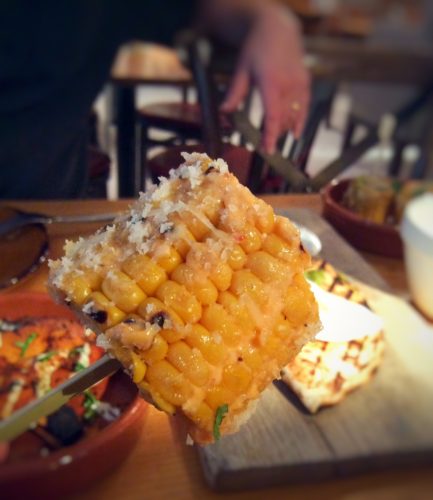 If you want a light lunch, the tacos are a great place to start. Each serving of two tacos is piled high with fillings. My roasted poblano and sweet potato taco was deceptively hearty and bursting with freshness. The taco packed a little kick which was in part soothed by the cool creamy crumbled cheese on top. It was very well balanced. Husband who gave up smoking and took up pulled pork instead, wolfed his down with the demeanor of someone who hadn't had a hot meal all week.
The Mexican pizza was a large tortilla, folded and filled with refried beans and avocado. It looked as pretty as a picture with the sunshiny egg on the top. I thought it was delicious, I'd love it to have a big handful of coriander inside the pizza – but I'm a coriander addict and I suspect if I asked, they'd throw some in for me.
Deserving of special mentions were the chunky sweet potato fries – chargrilled for a smoky flavour and tossed in some delicious but secret seasoning, I reckon these might be the best sweet potato fries in Didsbury. The tempura of calamari with black aioli was also a bit special, the light and crispy tempura had finely sliced chilli and coriander flecked throughout, and the black aioli made with squid ink looked appealingly arresting on the plate.
I was by this point (remember, this was a supposed to be a light lunch) feeling a little drunk on food, but we were determined to have desserts. Hubs went for the caramelised apple and cinnamon burrito served with cream cheese. His sweet burrito smelt deliciously autumnal, of apples and cinnamon. Once he devoured it, he grunted with the kind of approval he reserves only for good puds.
I opted for the peanut butter cookie ice cream sandwich with caramel sauce. I'd seen photos on Twitter of this highlight of the dessert menu and it did look awesome. In real life it was much bigger than I was expecting. Two freshly baked peanut butter and chocolate chip cookies, each around 4 inches in diameter, sandwiched with ice cream and caramel sauce. It was huge and I could only finish half, a fact which makes me feel disappointed in myself even now. If you like peanut butter, it is absolutely worth saving extra room for this ice cream sandwich, or sharing it with a peanut butter loving friend.
Replete, husband opted for a coffee and I had an espresso martini before we went our separate ways and back to work for the afternoon. We'd had an excellent, laid back lunch and some valuable quiet couple time together.
Our meal at Y Fabrica was really enjoyable. I've long felt that Didsbury really needed somewhere casual but grown up, a place where you can grab a taco or two and a frozen margarita (how I've longed for frozen margaritas in Didsbury).
The staff (shout out to the lovely Huw) were delightful, very helpful and keen to explain the new menu, recommending dishes along the way, and were attentive without being overbearing.
I'm pleased to see so many veggie options on the menu too. The food feels vibrant, fresh and healthy without being pious about it. I reckon I must have had about 800 of my 5 a day without even noticing.
It's good to see the old Mud Crab Cafe getting a new lease of life as Y Fabrica, it's even better that it's round the corner from my house and has met my long hoped for wish of tacos and margaritas within walking distance. A good addition to Didsbury village, we'll be back!
Y Fabrica is at 747 Wilmslow Rd, Didsbury, Manchester. You can find Y Fabrica on Twitter.
We were invited guests of Y Fabrica (I'd won lunch for two). I was not asked to blog about my meal, but we enjoyed it so much I wanted to write about it and show off some of the nice pictures we took.