It's been a funny old week really. It started off with a few days of me feeling really emotional and crying all the time. It ended with me clutching a sick bucket and praying for a swift end. So, because this word has taken up my every thought and deed for the last 48 hours, it'd be rude not to make it my word of the week.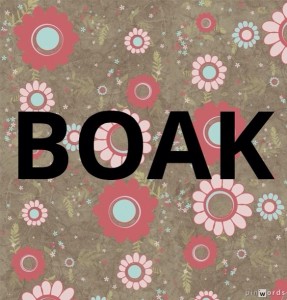 It's not a pretty word, or indeed thing to experience, so I've put it on a pretty background to make it seem more lovely. I've had/got/am still breeding norovirus which is among the least nice things that can happen to a human being. Though I like to put a positive spin on it and consider it to be a free detox or an excellent start to a diet. Either way, it's still boak.
I'm joining up with The Reading Residence Word of the Week, what's yours?