In the summer of 1995 I fell in love with my husband. I was a youthful 18 year old, freed from the shackles of A level revision and all set for university. I had a handsome man on my arm and a badly paid summer job in the steamy kitchen of a care home. This is our tale of summer loving.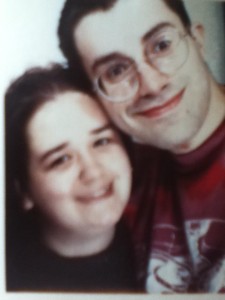 Although my memories of that summer are patchy, I remember sweaty evenings working in the kitchens followed by sweatier nights out at nightclubs with my man. I worked hard and played hard, hardly seeing daylight from one day to the next. My main focus was on squeezing every last bit of fun out of my pre-uni summer.
I was busy getting to know the person I would eventually marry, even though we'd end up at universities at different ends of the country for a few weeks until he moved up north to be with me.
Our love burned brightly and intensely as teenage love does. I still love him intensely and passionately for the man he was and the great man he has grown into. I often look back at the boy I met way back in the early 1990s and see how being together we've helped to shape each other and grow, our shared destiny intertwined.
I'm so pleased that I married my soulmate, my best friend and favourite person in the world. I love that I managed to just stumble across him so early in life before I managed to accrue too many broken hearts and hurtful memories. I know how lucky we are, I know how lucky we still are.
It's 2017 now. Next month will mark 22 years of holding his hand and facing whatever life throws at us together. We are not the people we were that lifetime ago. We are changed, mostly for the better. We're parents now and dog owners, we are both self employed and reasonably responsible members of society. Though I still enjoy a sweaty nightclub.
Everything and nothing changes. Life is funny like that.