Who is HodgePodgeDays?
Hello, I'm Jane, I'm a Mum from Manchester (to Ben born in 2010) and wife of the lovely Matthew. We also have a lively spaniel called Penny, who fits right in. I've lived in Didsbury, a leafy suburb of Manchester all of my life and love being part of this vibrant community.
I've been blogging since 2013 and over time my blog has evolved and grown. Each week we publish blog posts on a range of subjects including, recipes, craft tutorials, book reviews and round-ups, holidays, days out, toy reviews, giveaways, skin care and fashion. I describe myself as a family, food and lifestyle blogger. It's all a bit of a hodge-podge really, hence the name.
Who are we really?
Jane – I've been blogging since 2013. I began blogging while I was recovering from a serious accident which left me bedridden for 8 months and needing two urgent surgeries. The recovery took quite a long time and I was bored, so I began writing my rambling thoughts on the internet. Eventually HodgePodgeDays was born and the rest is history.
Previously I'd trained as a journalist, but ended up working in Further Education and then for the NHS. After my accident I was no longer able to return to my old job, so I now work as a full time blogger, social media manager and freelance writer.
My hobbies include trying all kinds of crafts, baking, walking the dog for miles down by the river and going to the gym for long swims and frenetic aqua classes. I'm also very partial to a nice cold pint, should I ever get the chance to slip out for an hour by myself.
Matthew – Matthew and I went to the same school, but two years apart. Just after I'd finished my GCSEs he asked me out. I said no. Two years later, he asked me again and I said yes. He followed me (by invitation) to my university town, and we lived together for a few years before moving home, getting a mortgage and finding proper jobs.
Matthew went to work for my Dad as an apprentice printer. He's been there for a little over 20 years now, and the business is now his.
In 2010 we welcomed a new addition, Ben, and our lives turned upside down, but in a good way.
Matthew is a keen runner, a music fanatic and he enjoys action-adventure books. He likes hill walking, camping and travel around the UK and abroad. He's got a bit of a thing for yurts.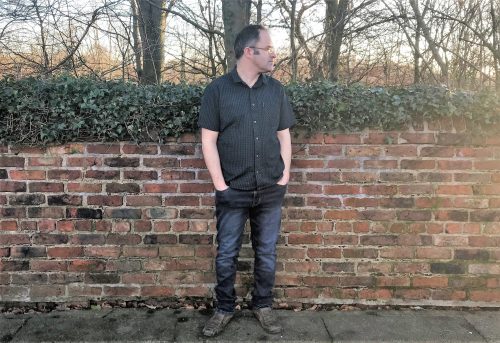 Ben – Ben was born in 2010. He's the apple of our eye and he's the one who drives our many adventures. He's always mixing up potions in the kitchen, creating artworks and taking us on delightful flights of fancy with his incredible imagination.
Ben likes swimming, martial arts, reading, crafts, baking, horse riding and LEGO. He loves going to Cubs, he likes camping, he likes the thought of a bunk bed but not the reality of one. He loves animals, dinosaurs, vikings, pirates, Harry Potter and watching cooking programmes with his mum. And he's growing up far too fast.
Penny – Penny the wild spaniel was born in 2016 and arrived just before Christmas. She came to keep me company and to encourage me out of the house a bit more. She was a lovely, loving distraction for me after my Dad died and she's a loving comfort at all times.
She's also incredibly bouncy, boisterous and energetic, she's a thief and a sneak and hasn't learned to wipe her muddy paws before she comes in yet. She is also obsessed with tennis balls. She's changed all of our lives for the better, we love her, despite the muddy paw prints.
Want to know more?
If you would like to discuss working with us on a blog feature, please do get in touch and thank you for reading!
Jane x
Some of my blog posts have been featured by Mumsnet & Tots100…
Competitive kids: Why is winning so important? Mumsnet August 2017
This is how it feels to be lonely, Mumsnet Jan 2017
Broody but broken – Why I can't have a baby, Mumsnet June 2016
Mummy? How do you spell f**k? Tots100 April 2016
Did my husband lose respect for me after I gave birth? Mumsnet April 2016
Spoof School Newsletter, Mumsnet & Tots100 Jan 2016
Mean Girls – how playgroup mums ruined my confidence, Mumsnet & Tots100 Dec 2015
You're Not My Best Friend! Mumsnet, May 2015
Codeine Withdrawal, Tots100, January 2015
How to make your own Snow Globes, Mumsnet, December 2014
Mental Health Waiting Times, Mumsnet & Tots100, October 2014
Featured in…
Brockmans Gin Baked Camenbert Recipe, November 2017
Gin Festival Guest Blog – March 2017
7 Reasons to visit Manchester Red Letter Days blog – February 2017
What does Valentine's Day mean to you? Zeit My Geist – February 2017
The Trafford Centre The ultimate dining guide – for kids, by kids! – August 2016
At Home Parenting Magazine School uniform care tips – June 2016
Winning Recipe – Smoked Haddock & Leek Tart Daisies & Pie Blog – April 2016
Thirst Pockets – Delicious British Recipes  – March 2016
Britmums Blogging Tips – How To Guide – January 2016
Interview – With Kids in Sweden blog – January 2016
Good Mood Food – Getting a good breakfast – August 2015
Interview with Epilator Central – June 2015