It was my birthday on September 5th so we decided to sneak away for a family weekend and a little celebration of my increasing age. We went to Center Parcs – Whinfell from Friday to Monday and had a lovely, lovely time.
It's so easy at Center Parcs to overload yourself with activities, we were all in need of a restful break so we decided to dial down the busyness and focus on chilling out and being together. So that's what we did.
We arrived mid afternoon on the Friday (my birthday), unpacked and went to the Subtropical Paradise, otherwise known as the swimming pool. It was lovely to get in the water, and because we went in quite late at around 5pm it wasn't hugely busy. We enjoyed the rapids and the waves for a bit, then went to relax in the baby pool while the small boy poured buckets of water over us.
We then headed back to our lodge, had some pasta for tea, sang Happy Birthday to me and settled down for the evening. We were all already exhausted so it was early to bed.
Saturday we'd arranged a free morning so the boys went to the playground while I read my book in peace and quiet for a bit, then we all went swimming (swimming is free, so we did this a lot), then pack to the lodge for a picnic lunch on the patio (any food eaten outdoors is a picnic to us, the small boy is obsessed with picnics). Suitably fortified we trundled off to see the rangers and enjoy the pre-booked Mammal Magic session.
Ranger Richard is lovely, really knowledgable and great with the kids. He brought round a number of animals to stroke and learn a bit more about. It sounds like his house is a bit of a menagerie. We met a polecat, a rat, a hedgehog, an Australian sugar glider and a husky. The hedgehog and the husky were our favourites.
After giving our hands a good scrub we popped to the pub for a quick pint before wandering over to Hucks in the village centre for our pre-booked tea. Hucks serve American Style food, we'd been four years ago when I was pregnant and if I'm honest we weren't that impressed, but decided to give it another go. The food was much better, we shared a tasty spinach and cheese dip to start; and then himself had a burger and I had veggie fajitas, the small boy ate from the kids buffet. It wasn't gourmet food, it is what it is and it was okay. We would go again on our next visit.
Sunday was the day I was most looking forward to. We had a relaxing morning drinking coffee in bed and watching cartoons on TV, then we headed off to the playground to burn off some energy. We had lunch in Dexters which is a burger bar next to the Subtropical Paradise, then the small boy and I wandered over to the soft play area while the big boy swanned off to the spa for a spot of pampering.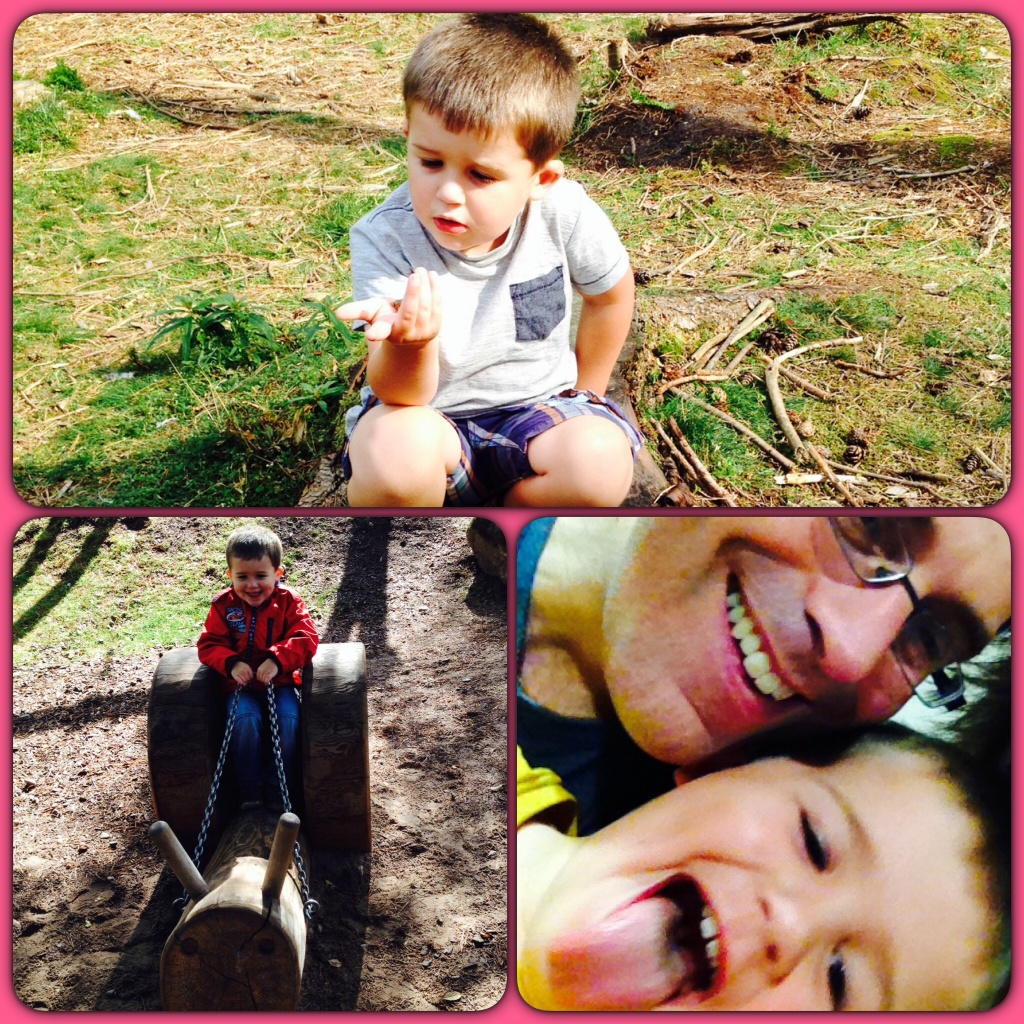 We'd booked the small boy into the crèche to go to a chocolate party for three hours, this was so we could go to the spa. For complex organisational reasons we were only together in the spa for 90 minutes, but we each had three hours in there, moving from steam room to steam room, swimming in the lovely outdoor pool, enjoying the saunas, resting on the waterbeds, enjoying some serious relaxation.
I adore the spa at Center Parcs, I was steamed to perfection by the time I left. My skin was glowing and smooth and I felt fantastic. I need a spa session like that at least monthly (hints).
The small boy had had a brilliant time at the chocolate party. He'd been sent away with a box of goodies and an apron he'd decorated himself. He'd had a good time and so had we, it was win-win.
It'd been another busy day for us all, exhausted but happy we all had a really excellent nights sleep.
Monday arrived and it was time for us to leave. We packed up and went for one last play in the playground, one last swim and one last picnic lunch by the lake in the sunshine. All told it was a fantastically restful weekend, we were sad to leave but I know that we'll be back again really soon. There's already talk of a spa day.