If you've got a baby in the house getting ready to toddle, a baby walker can be a great way to get them moving with confidence. When the boy was toddling he was given a baby walker which really got him woddling along nicely, and the look on his face as he learned to get around was priceless.
I've picked out three of my favourite baby walkers to suit budgets big and small from Online4Baby. They are one the UK's leading suppliers of baby and toddler products, with a wide-ranging catalogue from buggies to baby monitors and of course baby walkers and ride ons.
Top of the range is the 4Baby Deluxe Car Baby Walker & Rocker. This eye catching racing car style baby walker features adjustable height positions and a removable musical play tray.  Available in red or blue this is just the thing to get those little legs moving!
The 4Baby Deluxe Car Baby Walker & Rocker is £89.95 from Online4Baby.
A great mid-range baby walker is this My Child Walk n Rock Musical Baby Walker & Rocker, priced at just £42.95. This height adjustable Walk n Rock includes an electronic interactive play tray with lights, sounds and music to keep baby entertained.
I think baby walkers like this are great. They encourage little ones to get moving and are also little activity centres. We had one very similar to this and he loved being in it.
My final pick is the Chicco Baby Steps 2 in 1 Activity Walker, available from Online4Baby at a bargain £17.95. The walker is designed to help your baby safely stand up and take their first steps to independence. When your little one starts walking, it plays a tune, when they stop, so does the music which can really help to encourage your little one to take a few extra steps.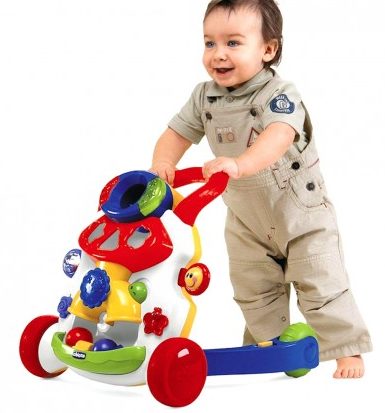 There are some really great baby walkers on the market these days, all designed to be lots of fun to use and to get your little nipper zooming about with confidence. These three picks from the range of baby walkers and ride ons from Online4Baby would make an excellent Christmas gift for your woddling toddler.
= This is a collaborative post =