Last Updated on December 30, 2020 by HodgePodgeDays
Doing laundry isn't really anyone's idea of a good time. I like to think that in our small household we don't produce that much washing; but I'd be telling lies to myself. With a boy who has more outfit changes than Elton John, a husband who works with chemicals and runs twice a week and a dog who can't resist a muddy puddle, we have a bulging laundry basket most days.
I'm always amazed when I'm sorting the clean washing how little of it is mine. Working from home I don't tend to make much of a mess of myself, so a top will easily do two or three days before it gets washed.
Our laundry routine is tried and tested. My husband and I have been washing each other's pants for over 20 years now. It's not a task we enjoy, but it needs to be done.
We have a big laundry basket in a cupboard.. When the basket is full, he lugs it downstairs and puts a load on. Our laundry basket typically holds two loads. He's usually out at work when the washing is done. When I'm in the kitchen making myself some lunch, I'll empty and hang up the wet clothes and put load number two on. I'll empty the washing machine again while I'm in the kitchen cooking tea.
In terms of washing powder, we tend to either use Fairy or Supermarket Sensitive powder. If something is badly stained we soak it in Napisan before and add a dash to the wash too. As for laundry baskets, I love a big laundry basket (like these lovely big ones from Lionshome), despite its size ours seems to fill up quite quickly.
The washing machine is on every other day usually. Except at weekends when it's usually seeing some action on both days. Once the washing is dry, it makes its way upstairs to be added to the sorting pile. This is where our washing tends to get stuck for a few days until the pile is so big one of us snaps.
I don't iron, I refuse to iron, so this is something my husband does. He irons most of his clothes and some of our son's tops, he does this about once a week.
Every weekend we wash bedding and towels, along with any other loads which need washing. The winter months are hard because we can't really hang clothes out on the washing line. I love warm summer days when a line of washing dries quickly. It's those days I'm scrabbling around for things to wash just because I can and I know they will dry quickly. Cushion covers, curtains, duvets all get thrown in.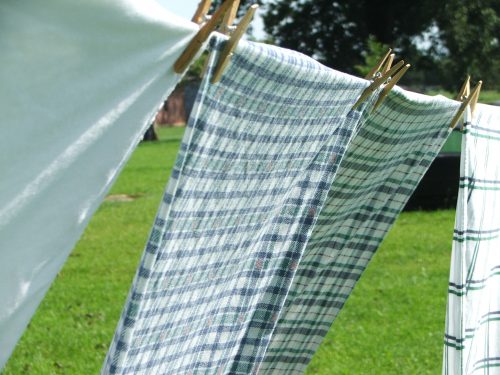 During the long winter months our house looks like the back room of a dry cleaners. There are clothes hanging up everywhere and the radiators constantly covered in damp clothes. We have a couple of drying racks and airers, again Lionshome come up trumps with some good options to choose from.
It's not a perfect routine, but it works for us. Right now I'm watching the snow silently falling and I'm wondering when I'll be able to peg my first line of washing out on the line this year. There's something really lovely about washing that's been dried on the line. Roll on summer!
This is a sponsored post.