Last Updated on November 21, 2022 by HodgePodgeDays
We were invited guests of Christmas at Dunham Massey. All images and opinions are our own.
Our nearest National Trust property is Dunham Massey. We are regular visitors to Dunham, we love the long (but flat and well-paved) walks they have. The gardens are lovely whatever time of year you visit and the house is full of upstairs-downstairs history. On 1st December we went along to the launch of 'Christmas at Dunham Massey' a magical, after-dark, illuminated trail which was jam-packed with Christmas magic.
This year, for the first time ever, Dunham Massey has transformed into a winter wonderland. It's taken six months of planning and hard work (and probably millions of light-bulbs) to create a wonderful Christmas experience for families to enjoy.
The walk from the visitors centre to the courtyard gives you a little taste of what's to come, but as soon as you walk into the courtyard you know you're in for a real treat. The courtyard is filled with Christmas market style sheds selling hog roast, mulled wine, roasted chestnuts and those big sausages you only really see at Christmas markets. There's also a colourful vintage carousel to enjoy.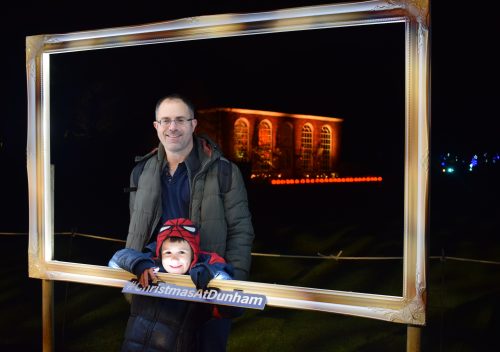 We picked up some snacks and some cups of hot mulled wine and headed off towards the lights, pausing to watch an Elf and Father Christmas welcome us to Christmas at Dunham Massey. Then on to the winter wonderland of the garden.
The trail is a one mile sparkling path through the gardens. It winds through the historic woodland and has surprises around almost every corner. From a giant (and I mean giant) reindeer, to huge baubles lit in flickering flames in the scented fire garden; not to mention twinkling tunnels, stunning reflections of light on the water and the wonder of Pealight Heaven (named for the 100,000 pealights it's made from.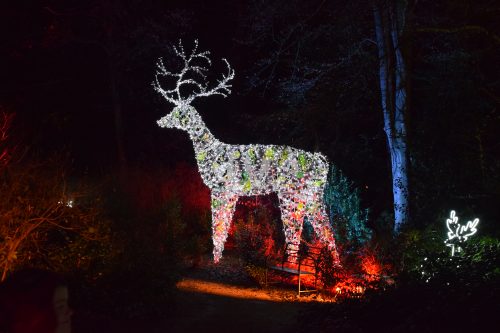 There are lights, there's beautiful music and there are mulled wine stands at very regular intervals (try the mulled cider, it kept me warm on a cold night). Stop by Pealight Heaven and buy a marshmallow to toast over the fire – an absolute must!
It's such a beautiful, magical way to spend an evening with your family. It's well thought out and incredibly well stewarded. There are helpful, smiley faces around every corner. Even though the paths are flat and well-made, you can never be too careful walking in the darkness. It felt reassuring to know there were helpful people around if you got stuck.
It's an after-dark event, so if you do go, make sure you're well wrapped up against the cold and you're wearing good, sensible footwear. You might also want to slip a torch into your pocket just in case. We took a torch but didn't use it, everywhere was so well lit.
Christmas as Dunham Massey is utterly gorgeous. Our highlights were the giant reindeer, the huge lawn absolutely covered in lights and the scented fire garden. The small Christmas market was excellent too and the food and drink were really good quality. I hope they run this again next year. I can see a visit to Christmas at Dunham Massey turning into a festive tradition!
Christmas at Dunham Massey runs until 30th December 2017, 4.45pm – 10pm with 9 timeslots each night. You will need to pre-book tickets on the website here.