If the grey weather is getting you down and you're feeling a little bit bah-humbug about the onset of the festive period; then I can heartily recommend a visit to Tatton Park in Cheshire. Over the weekend we braved the rain and struck out in search of some serious festive fun. Which we found a short drive from our home in South Manchester.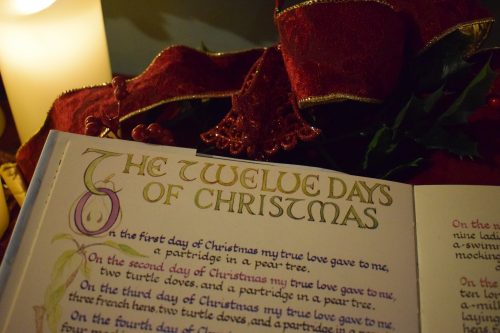 Tatton Park have pulled out all the stops and thoroughly decked the halls of their beautiful mansion as well as laying on a whole raft of lovely family festive activities this Christmas. When we visited over the weekend we filled a busy afternoon with Christmassy fun and could have stayed for more if it wasn't closing!
When we arrived we headed straight for the warmth of the mansion. It's a stunning building on any day of the week, but it's been beautifully decorated with fresh foliage and greenery, with a series of grand state rooms and servants' quarters decorated with a 12 Days of Christmas theme. It's lavishly done, with turtle doves, gold rings, ladies dancing, maids a milking and so on.
We entered a room filled with the most beautiful Christmas tree and a choir took their place on the staircase and serenaded us with Christmas carols. It was so lovely. We made our way to the servants' quarters and discovered a very helpful butler in The Still Room who offered us freshly baked flapjack and some history of the house. There was also seasonal crafts for the children to try as well as a wish tree you could write your Christmas wishes on.
Once we'd finished our tour of the mansion, we wandered into the Christmas craft fair which was on and we managed to pick up a few presents while we were there. We stopped for a quick coffee in The Stableyard cafe and then we wandered down to the farm.
We love the farm at Tatton Park. Whatever time of year you visit there is always something interesting going on in the farmyard. But we weren't really there to check out the livestock, we were there to meet Father Christmas.
A visit to Father Christmas at the Farm is something of a tradition for us. We've visited Tatton Park a few times before and each year it's slightly different. This year we were greeted by a brass band heartily playing Christmas carols, which was lovely. We said hello to the donkeys and had a look at the nativity scene. We then wandered past the small fairground attractions and headed straight to say hello to the reindeer, sit in the sleigh and have a look at the two heavy horses in the stable.
Up the cobbled lane to have a quick look around the Elves Workshop and on to the grotto. It was a cold rainy day, and there was no queue at all, something of a marvellous bonus. We were greeted by a very friendly French plate-spinning elf who entertained us while we had our faces painted.
We were then led down to the grotto to see Father Christmas himself. Ben had a good chat with him about how good he has been this year and what he would like for Christmas. Father Christmas gave him a little present to open on Christmas Day; presumably to save him carrying it on the big night.
I wanted to show the boys the pigs. We were incredibly lucky to arrive just as Sienna, a Saddleworth sow was giving birth to her piglets. We hung around and watched in awe as the pig gave birth to piglet number 4. It was something incredibly special to watch and a fantastic little biology lesson for the boys.
By the time we left the farm darkness was creeping in; so we hot-footed it to the car to head home. Tired, cold but absolutely bursting with festive spirit. It was a fabulous way to start this year's festivities!
Tickets to Father Christmas at the Farm are £7.00 for adults and £6.50 for children (including a gift). Mansion ticket prices are £10 for adults and £6 for children. Parking is £6 per car.
To find out more information about the full range Christmas events at Tatton Park, including carol concerts and other family acitivites, visit their website. 
We were invited guests of Tatton Park and we were given complimentary tickets in exchange for this review. All images and opinions are our own.