Last Updated on April 30, 2016 by HodgePodgeDays
If you've ever been to a Wild Rumpus festival or event, you will know that whatever they do, you're in for a treat. In May this year their latest outdoor family event is taking place – A Day At The Lake which for one weekend only will be at Rudyard Lake in Staffordshire.
A Day At The Lake is a reimagining of the lake in the late 1800s, which was an excursion place for thousands of day trippers who were transported out of their day to day lives by watching spectacular feats and outdoor arts of the age.
A Day At The Lake promises to be a real treat – with three days filled with spellbinding outdoor arts and astonishing performances. A series of spectaculars on the lake will include a recreation of Carlos Trower, "The African Blondin's" daring tightrope walk by Bullzini of the Bullzini Family.
On a floating stage on the lake will be showstopping performances from "the finest purveyors of Circus Swing" Gabby Young & Other Animals, the City of Birmingham Symphony Orchestra Ensemble and glorious vintage dry land synchronised swimming routines from Yorkshire Life Aquatic.
On top of all that, A Day At The Lake will also feature…
A walkabout performance
Storytelling
Marching bands
Victorian Bather's Juggling Show
Circus sideshows
Mesmerising Mermaids
Helter Skelter and Swing Boats
Rowing boats and boat trips on the lake
Donkey and steam train rides along the shore
Craft and Vintage shopping at the Treacle Market
Street food and local ales
Rudyard Lake is a stunning Staffordshire beauty spot. Known as "the Blackpool of the Potteries" the two and a half mile long lake is located near Leek on the Staffordshire-Cheshire border. This man-made lake was built to supply water to the expanding canal system, and the arrival of the North Staffordshire Railway in 1849 brought day trippers to the lake in droves, leading it to it becoming one of the most popular tourist destinations of the time. Visitors to the lake included John Lockwood Kipling and Alice Macdonald who named their son Rudyard Kipling after the beauty spot where they first met.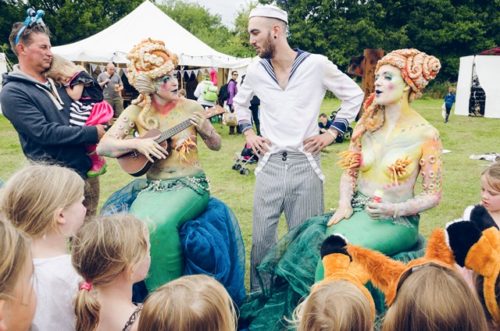 We've very excited to be going to A Day at the Lake on the opening day of April 30th. Not only will it be a fantastic Edwardian adventure, but as with all Wild Rumpus events we'll be talking about it for a long time afterwards too!
Advance tickets cost £14 per adult, £7 per child. Under 3s go free. Admission includes all performances and entertainment with small additional charges for rides and boat trips.
For the full line-up and tickets visit www.dayatthelake.org.uk. Follow A Day At The Lake on Facebook and Twitter at #dayatthelake.
A Day At The Lake will take place on 30 April, 1 and 2 May 11am – 9pm at Rudyard Lake, Staffordshire ST13 8XB.