It's not often you get to make dreams come true, but taking the small boy to visit the faraway kingdom of Alton Towers would've been special enough, but going to CBeebies Land while we were there made us in his eyes at least, the best parents in the world.
We were invited by CBeebies magazine to spend the morning with the team playing games and having fun, then the afternoon was ours to enjoy Alton Towers and Cbeebies Land. We were there to find out more about their CBeebies magazine kids go free promotion, as they've teamed up with Merlin Entertainments to launch a Summer long campaign, giving parents the chance to save up to £355 on top kids' attractions in the UK.
Every issue of CBeebies Magazine until the 7th October, will come with two vouchers for kids to go free to a different attraction every issue, with some of the most popular kids' attractions in the country including Legoland, Chessington World of Adventures and Sealife Centres.
It was a rubbish, rainy day, but we arrived at the Alton Towers Hotel and met the team. We were divided into groups and we were guided round some fun, CBeebies themed games and activities, some of which we'll be recreating at home. Our first stop was the Swashbuckle table where we put on our pirate hats and made pirate medals, then we sang the song and did the pirate salute.
The next activity was throwing a soft toy into a hula hoop. If it landed in the hoop you had to make the noise of the animal in the hoop, so if you threw it into the Jess the cat hoop, you had to miaow. This game took a bit of getting the hang of, due to hand-eye co-ordination issues, but once he got the idea he loved it and we could barely tear him away.
We soon moved on and did some drawing, he drew a Postman Pat, he's really starting to get the hang of drawing now and his masterpiece was magnificent. Lastly we were read a story about Peter Rabbit and friends, and then we tried some fruit and vegetables that the rabbits might eat, his favourite was the strawberries, but he nibbled at the radish and didn't hate it. Result.
We drank some juice and sang some songs, we were told we were about to meet a special guest, who would it be? He drives a van, he has a cat, it was no other than Postman Pat. It was a big moment for the small boy, he waited patiently to meet his postal hero and was rewarded with a cuddle.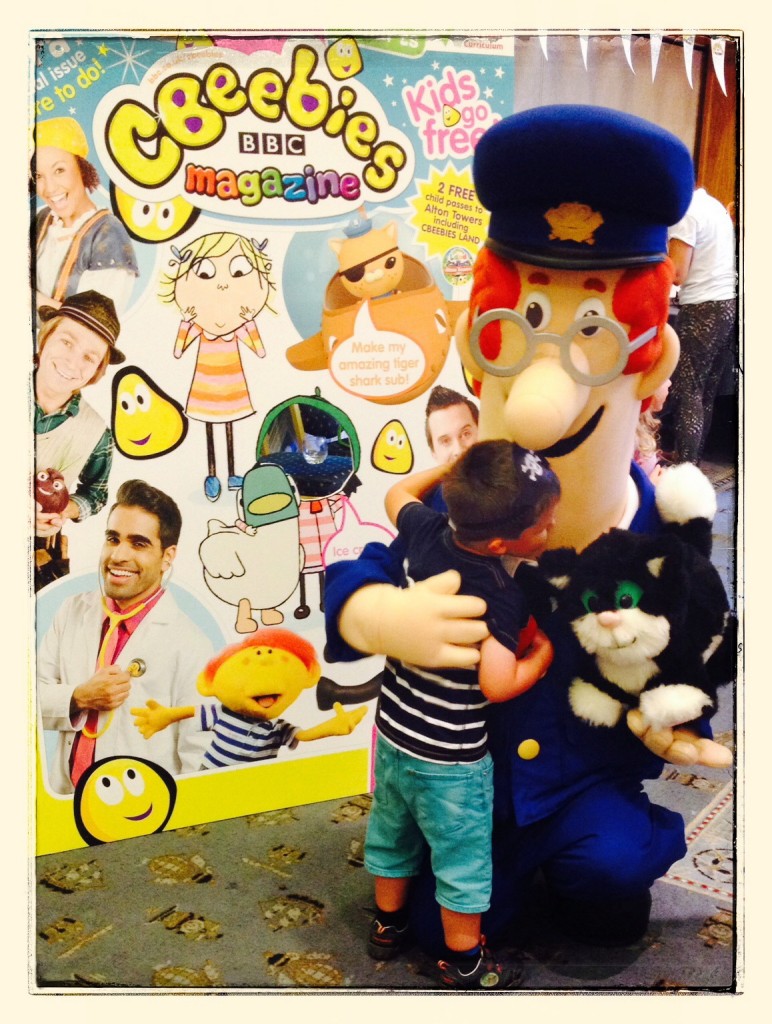 The morning done, we mooched off to CBeebies Land, which quite frankly deserves a post of it's very own. Coming soon, watch this space etc, suffice to say it was a grand day out.
CBeebies magazine are offering a kids go free deal until October, below are when the vouchers for each attraction are published. We'll certainly be taking advantage of this brilliant deal.
• Issue 410 (30th July) – Chessington World of Adventures – Save £68 (£34 per ticket)
• Issue 411 (13th Aug) – Alton Towers Resort inc. CBeebies Land – Save £86.40 (£43.20 per ticket)
• Issue 412 (27th Aug) – Warwick Castle – Save £39.60 (£19.80 per ticket)
• Issue 413 (10th Sept) – Legoland and Legoland Discovery Centre – Save £82.80 (£41.40 per ticket)
• Issue 414 (24th Sept) – Sealife Centres and Seal sanctuaries – Save £39 (£19.50 per ticket)
Note: We were invited to explore Alton Towers, CBeebies Land and enjoy an activity morning by CBeebies magazine to help promote their #CBeebiesMagKidsGoFree campaign. We have not been paid and all opinions expressed are my own.