Last Updated on June 18, 2018 by HodgePodgeDays
At the end of August I took the small boy away for five days at Ribby Hall in Lancashire. We had a brilliant little break, but one of the highlights was visiting the small independent zoo which is on the site, Wild Discovery. We've been to zoos large and small, but never have we experienced anything like the interactive and hands-on experience we had at Wild Discovery.
From our cottage at Ribby Hall we could see some of the enclosures at Wild Discovery, which is quite special if you're staying in the village. We set aside an afternoon to spend exploring Wild Discovery. It's the kind of thing you can whip around in half an hour, or you could easily spend a day exploring and interacting. We went twice during our stay, which tells you how much we enjoyed it.
There are lots of different animals and birds at Wild Discovery; from farmyard animals like rare breed pigs, pretty little calves, a reindeer, chickens, rabbits, guinea pigs, sheep and even an orphan duck. There's an exotic house with bats, insects, reptiles and some fish, as well as tortoise, armadillo and lovely little marmoset monkeys.
The favourites with the children were the meerkats, obviously. The family group at Wild Discovery are great fun, especially at feeding time. We were lucky enough to be there a few times when they were being fed. They are such funny, cheeky little creatures.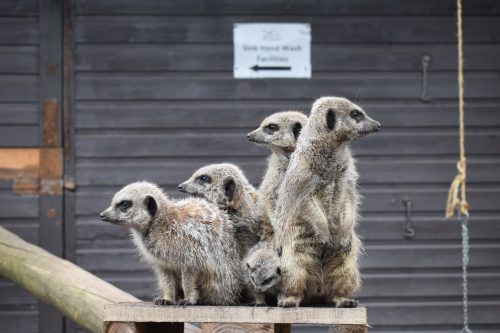 There is a safari walk which takes you past all the birds, past the Asian small-clawed otters, the capybara, pelicans, alpaca, wallaby's, rhea and the porcupine (adorably called Pricklelilly).
My son was particularly taken with the Asian small-clawed otters Ollie and Geoff. During a keeper session we helped to put together an enrichment activity for them, putting live mealworms into a ball for the otters to play with and eat. We ended up spending quite a lot of time watching Geoff and Ollie playing in their enclosure and ultimately adopting them both. (We're planning to visit them again soon).
There are regular sessions throughout the day which you are free to join in with. The sessions are listed on their website, but they currently include; the Farmyard Talk; an Enrichment Activity; Otter Talk and Feed; Pelican Feeding Talk; Meerkat Talk; Farmyard Talk; Armadillo Talk and Meet the Keeper.
These sessions are what made Wild Discovery so special for us both. We really loved that you could spend time with the staff learning about the animals. The keepers would often let you touch the animals or feed them if appropriate. One of our highlights was discovering a freshly laid (unfertilised) rhea egg and getting to touch it while it was still warm.
We learned so much at Wild Discovery, it's such a friendly place and so hands on. It's still quite new, I know they have plans to build and extend what they have and add new animals over the next few years or so. It's such a great place to visit, even if you're not staying at Ribby Hall.
Wild Discovery will also feature on popular the Cbeebies TV programme "Fern & Rory's Vet Tales" in 2018. The programme will feature Wild Discovery and showcase several of the animals in the zoo. They will also feature a behind the scenes look into the work of the Exotic Veterinary Team. Worth looking out for!
Tickets to Wild Discovery (with unlimited access for one day) are £7 for adults and £6 for children. Under 3's go free. For more information about visiting Wild Discovery  visit their website.
We paid for our tickets to Wild Discovery. We've not been paid to write this post. We are just sharing a lovely experience of a great attraction.