When it comes to fashion my lovely husband is a creature of habit. His work clothes (he runs his own printing business in Didsbury) generally consists of sturdy boots, jeans and a black t-shirt or jumper. Despite considerable modernisation in the printing industry, it can still be a pretty dirty and physical job, so he wears clothes which are quite forgiving if splashed with ink or chemicals, as well as boots which will protect his feet from heavy machine parts and such like.
He needs decent, hard-wearing clothes which can stand a bit of rough and tumble as well as being smart enough for him to do business in. He goes out and about a lot to meet clients, so a smart but practical coat is always a priority. He was asked by workwear brand Scruffs to put their Expedition Tech Jacket to the test.
The Expedition Tech Jacket is a black jacket with orange detail and an orange camo lining. The jacket is designed to withstand extreme weather conditions and has taped seams and a waterproof membrane to provide high levels of protection from the rain when working outdoors.
The orange camo lining is made with 3M Thinsulate which makes it extra cosy, but still thin enough for you to be able to move about in it easily. The Expedition Tech Jacket has lots of pockets of varying sizes and includes a defender array torch, a super bright LED torch which is made from tough aircraft grade aluminium. This would be handy if you ever need to inspect something in low light, or in his case, fumble in the dark putting the key in the door.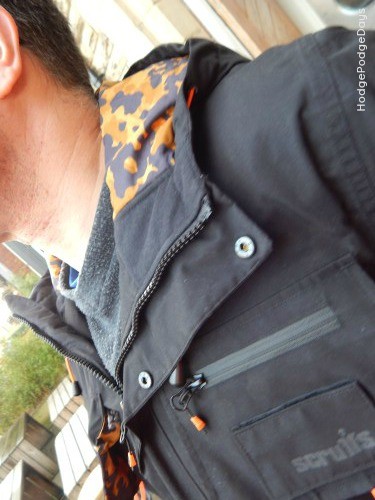 The jacket has been well thought out and has been carefully designed to meet the needs of people who work outside a lot. Plus it's smart enough to be worn ordinarily too. The jacket also has adjustable cuffs, hem and hood which help it to be a snug and weatherproof fit.
But what did he think of the jacket? He is a man of few words but he said it was very warm and cosy, he tested it on a very cold, damp and snowy weekend in Manchester and he was the only one of us who wasn't red nosed and shivering, so I believe him. He also liked the array of pockets and thought the torch was a nice touch and handy to have especially during these darker winter nights.
He ordered the large size and although he's packing a little extra post-Christmas timber, it fits him well. The material has been designed to be hard-wearing and it is, it seems robust and I think this jacket will last him for a few winters at least. I think it's pretty smart looking and looks great with jeans.
He wore it while shopping in the village, he wore it on a night out, he wore it when he took the small boy sledging and he now wears it to work every day. He looks very smart in it and I know that he's warm and comfortable too.
Note: We were sent the Scruffs Expedition Tech Jacket for review purposes. All Images and opinions are our own.