Last Updated on November 20, 2015 by HodgePodgeDays
I hate this time of year, if you've got a poorly toddler and the frozen rain (otherwise known as sleet) is lashing against the window; you're less inclined to go out and about for ambles round your local park. Poorly toddlers are notoriously narky and difficult to entertain, which can result in some delightfully epic tantrums (not always his).
This afternoon it was particularly nippy and the toddler was particularly grumpy, so we decided to snuggle in mummydaddysbed™, drink hot chocolate and check out the YouTube videos from Toddler Fun Learning.
Toddler Fun Learning is a family-run British production company who produce videos for toddlers that look fantastic, but help your little loved ones with their counting, spelling, vocabulary and lots more. I was all over this concept because the boy is obsessed with YouTube, plus he has hearing problems which means his speech is a tiny bit behind, so if this can help then all the better.
We watched a selection, including Twinkle Twinkle, Learn to count on Number Farm and The Wheels on the Bus. He loved them all. We watched them together (I'm very firm that the iPad is NOT a babysitter) and we sang along and chatted about what we saw; a cow; a hopping rabbit; a red tractor etc.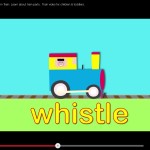 He watched some of them several times over but particularly fell in love with "Lets Build a Steam Train: Learn about train parts". He adores everything train related and this video showed all the pieces of a train with the words, I left the room briefly and returned to find him watching it for about the eighth time and reciting the words, which for me was brilliant I was so pleased.
He seemed to love all the videos, was engaged with them, laughed and got excited by them. We loved that the farm cartoons were mixed up with real footage of animals, he got so excited by that. I think the videos are great and a lovely learning tool for parents to enjoy with their toddlers.
NB. In a toddler nod to Hitchcock an orange cat appears somewhere in each of the videos. There's no bonus prize if you spot it, but it is kinda fun.
The Toddler Fun Learning YouTube channel can be found here.