Last Updated on February 23, 2021 by HodgePodgeDays
This week the small boy had his first sleepover. His slightly older cousin came over for the night and the excitement was palpable. In anticipation of the event we were sent a Pirate Snuggle Sac from Ollie and Leila to try out, and boy did we put it through its paces!
The Snuggle Sac is a cozy sleeping bag which is made of fleece with a 100% cotton lining. We chose the pirate one because who doesn't love pirates. But they come in a wide range of designs including Harry Potter, lions, dogs and fairies etc. They are designed to look a bit like dressing up costumes, so you can pretend to be a pirate whilst you're curled up for a sleep.
The Snuggle Sac measures 180cm x 70cm and is the perfect size for my five year old, leaving lots of room for him to grow into over the years.
What I particularly like about it is there is a pouch for you to slip in a pillow. The pillow doesn't go walkies in the night, something which used to really annoy me when I was in sleeping bags as a child. There is your standard sleeping bag zip along one side and pirate feet hanging off the bottom. It's lots of fun.
The Snuggle Sac comes in its own tote bag, which is great for packing it away when it's not in use. Although it's been designed to be used both for camping trips and sleepovers and to replace normal bedding, I think we'll be using it a lot over the summer for our holidays and for sleepovers. We're off to the Just So Festival in August, so this will be perfect for then.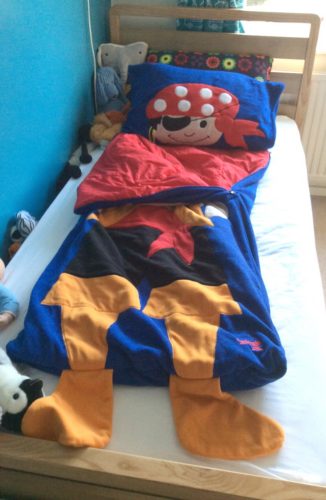 We unpacked the Snuggle Sac and the boys went bonkers for it. They loved it and couldn't wait to try it out. At bedtime we took it upstairs and made a bed on the floor for his cousin, tucked a pillow into the pouch, zipped him up and he soon nodded off. Perfect. Well at least the Snuggle Sac was perfect.
Near midnight, after a bout of coughing cousin Joe was sick on himself, his cuddly toy and the Snuggle Sac (see, I told you we put it through its paces!). So his bed was stripped and the Snuggle Sac washed and hung out to dry. I have to say it washed really well and dried pretty quickly on a sunny day.
It was a shame it didn't make it through the night, but we know it works, is popular and importantly when dealing with small sticky boys, it washes really well. I know my boy will want to sleep in it tonight and for the next few nights, but then we'll pack it away in its tote bag ready for our holiday.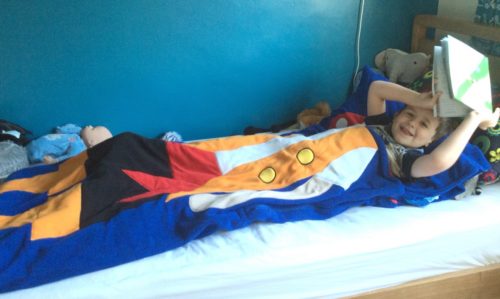 The Snuggle Sacs cost £45 here and I think they are lovely fun sleeping bag for kids. They also do adult versions (though sadly not in pirate designs) and Snuggle Sacs for smaller children and babies. I think if you're planning a family camping trip, or you have lots of sleepovers coming up, these are a great sleeping solution. We love ours!
Note: We were sent a Snuggle Sac for review purposes. All images and opinions are our own.