Living and working in Manchester, I am spoilt for choice for places to hang out for an afternoon or evening. The Printworks has long been a place we visit as a family, usually to go to the cinema and then for lunch afterwards. Last week I went along to The Printworks to hang out for the afternoon with some friends and discovered there's more to The Printworks than meets the eye.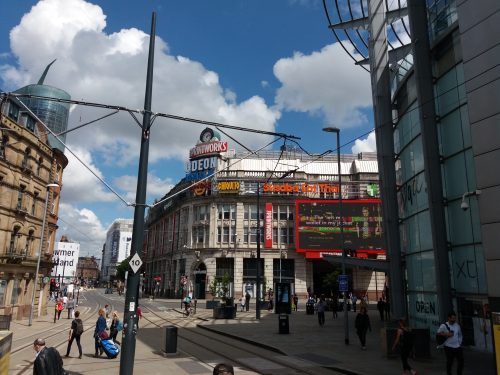 My first stop was a sauna and a swim at Nuffield Health at The Printworks. I'd always known there was a gym somewhere inside, but I hadn't really thought about where it was in the building. You hop in the lift and go up to the first floor and you're met with a huge, beautiful state of the art gym.
I was given a quick tour of the facilities, then I took myself off for a swim. The pool is a good sized 20 metre long pool with a jacuzzi, sauna and steam. I bashed out 30 lengths (that's 600 metres fact fans!) and enjoyed the fabulous view across the city centre. I then went for a well earned sauna and a steam, grabbed a shower, got dressed and headed off into The Printworks to see what else was on offer.
The Printworks is mostly known for the wide variety of bars and restaurants it houses. I have a few favourites I always go to when I visit, but it's always good to expand your horizons.
I went to Waxy O'Connor's for a post-gym drink. Waxy O'Connor's is an Irish themed bar and if you walk downstairs there's a huge bar area with lots of tables. They do food too, and I was tempted, but I stuck to my Black Velvet cocktail and was later joined by my friends. By this time it was 5pm and the bar was starting to fill up with people popping in for an after work drink with their colleagues and friends.
We could have picked anywhere in The Printworks to carry on with our evening; but we headed to Wagamama for a steaming bowl of ramen. Then off to Hard Rock Cafe for a few cocktails and a good old gossip.
There's something for everyone at The Printworks; whether you're taking the kids to the cinema and for a bite to eat afterwards, painting the town red or if you're in search of a workout and a pool with a view; The Printworks has it all!
For more information about what's on at The Printworks visit their website.
I was offered a free swim and a cocktail when I visited The Printworks. I was not asked to write this blog post.