A wooden train track is something most children play with at some point and BRIO is one of the biggest makers of wooden train tracks and accessories (we have almost all of their range already). This week we've been putting the BRIO Crane and Mountain Tunnel to the test, but what did the boy think of this new addition to his train set?
This month my son turns 8 and all he really wants for his birthday is BRIO. He has always loved his wooden train set and gets it out every so often to play with it. Over the summer something really clicked with him and a combination of  BRIO YouTube videos and having some extra time on his hands made him fall properly back in love with his BRIO.
BRIO is very safe to play with, it's well designed, sturdy and great for little fingers to slot together. My son is definitely at the older end of the target age range, but he really adores his wooden train track and plays with it every day. This BRIO Crane and Mountain Tunnel is suitable for ages 3+.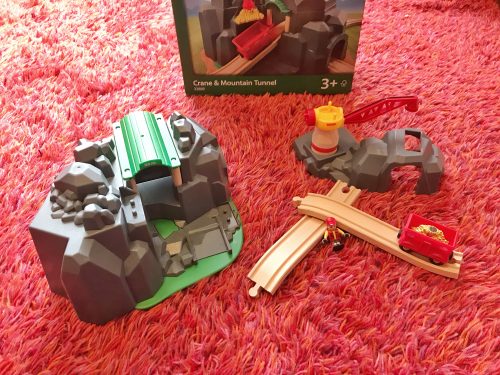 The BRIO Crane and Mountain Tunnel set includes a mountain with crane; a cargo engine, a BRIO mini figure, a wagon, a load and 2 pieces of wooden track.
The BRIO Crane and Mountain Tunnel is easy to connect up to any exiting wooden track you've got. It comes with two pieces of track which slot together through the mountain to make the tunnel bridge. To play with this set fully you will need more track and trains. We've got lots of track, so that wasn't a problem.
You will need 2 LR44 batteries which aren't included. The batteries power the sound, so when your train passes through the tunnel it makes one of four train noises. Though you can do without the sound if you like and just make your own choo-choo noises if you prefer.
The boy was absolutely delighted with the BRIO Crane and Mountain Tunnel set. He had some similar pieces already which he added to the track he laid down and he really enjoyed playing with all of the elements. The tunnel bridge which goes through the mountain is an especially good feature; though it is a little tricky to set up. You need to connect the two pieces of track which come with the set through the tunnel.
The crane piece sits on top of the mountain and swings around. There is a magnet on the crane so you can lift the cargo in and out of the wagons. There's also a mini figure who operates the crane. It's well thought out and a really good size if you're looking to add a bit of height and interest to your existing train set.
We can't fault it, it's exactly the kind of thing the boy has been asking for since summer. The BRIO Crane and Mountain Tunnel costs £49.99 and would make a good present for a wooden train enthusiast like my son!
We were sent the BRIO Crane and Mountain Tunnel for review purposes. All images and opinions are our own.