We were sent a ChewyMoon snack box for review purposes. All images and opinions are our own.
After school the small boy likes to come home to a drink and a little snack. He's very fond of both fresh and dried fruit, so he normally gets something like that to munch on. An afternoon snack for him is something of a sanity saver for me, if he goes without he's often so hungry by 5pm he's howling for his tea. A handful of dried fruit is just enough to tide him over till teatime. This week his afternoon snacks have been courtesy of ChewyMoon, and very nice they are too!
ChewyMoon is the UK's first nutritionally-balanced subscription snack box for children between the ages of 4 and 10. Their snacks are made from natural ingredients, with no refined sugar or nasties. There are five snacks in a box, together with a 'fun pack' comprising comics, fact cards and totem toys, so the box just as much fun as it is healthy.
In our ChewyMoon box there were five little boxes of snacks – just the right size for a quick nibble. They're in really fun, brightly coloured boxes (which we've saved, I'm sure they'll be brilliant for using in a craft project). The snacks are all nutritionally balanced and healthy, full of fruit, nuts, seeds and other goodies. He loved eating them and enjoyed trying the different snack boxes.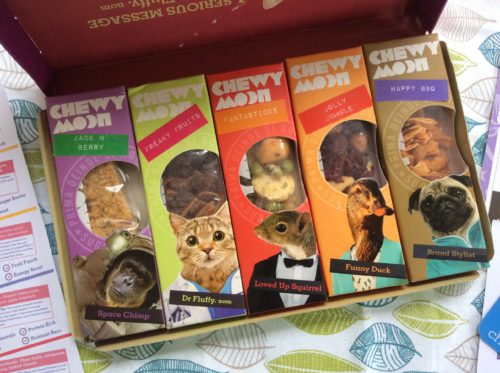 The ChewyMoon box comes with some fun things too. Ours contained a card to help us identify different kinds of clouds – we've stuck that to the fridge for reference purposes. There was also a space monkey "totem" which you popped out of the card and made into a little stand alone figure and a little comic strip to read.
It's colourful, fun, a little bit educational, healthy and the box arrives every week through your letterbox, addressed to your child. That alone is beyond exciting for my six year old!
The ChewyMoon website is fab, it's got lots of nutritional advice and information for parents. You can also rate each snack, so you can get more of what you like and less of what you don't.
Your ChewyMoon subscription box is delivered weekly and costs £4.95 per week, you can order a free trial box (just pay postage) to see if you like it. We did like it a lot. I felt that although my son generally enjoys healthy snacks, this was a great way to introduce him to some other kinds of snacks he might enjoy. There were a couple of things in our selection of snacks which challenged him, but with a little encouragement he tried them, enjoyed them and would have them again.
As a parent I try to encourage healthy eating and part of that is discovering new things to eat; exploring flavours and textures and encouraging him to be open to new experiences with food. I think ChewyMoon is a really fun box, but also a way to develop an interest in new things, which is never a bad thing.
For more information about ChewyMoon, visit their website.