A few weeks ago I was having a look around The Works and stocking up on craft bits and pieces and interesting books. While I was in there I spotted a magnetic whiteboard chore chart for £1 and I thought it would be worth buying just to see if it encouraged my son to help out a little more.
My 7 year old son is fairly helpful. Admittedly he will never do anything without being asked, but we are trying to get him to take some responsibility for himself and get him to tackle a few basic chores around the house. He's at that age where he's started to ask for a little bit of pocket money to buy things, and it wouldn't kill him to put his dirty clothes in the laundry basket each night.
My son is a busy boy, what with school and a few after-school activities, I don't like to push him too hard. In many ways I just want him to chill out and be 7. But I'd also like him to not leave a trail of mess and chaos everywhere he went.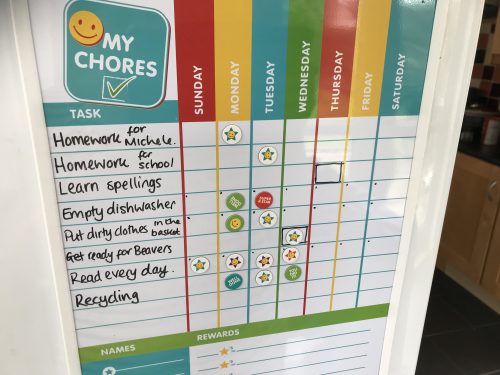 His chore chart is fairly simple. It lists in general terms the homework he has to do each week –
Homework for school
Homework for his tutor
Learn his spellings
Read his school books
I also threw in "Get ready for Beavers". He loves going to Beavers, it's one of the highlights of his week, but every single week we have a battle to get him into his uniform. If rewarding him for getting ready with no fuss is the secret to a peaceful household, then it's totally worth it.
I've also added the following chores –
Empty the dishwasher
Put your dirty clothes in the laundry basket
Do the recycling
The first two are things we think he needs to do to help out. They take a few minutes each day and he knows he will get some pocket money at the end of each week for doing it. The recycling is something he needs to do to work towards a badge for Beavers. It's a chore my husband hates, but my son seems to love it. Recycling will stay on the chore chart until he gets his Beavers badge.
He does love helping out around the house. I think it's important to get kids involved in looking after their home. He's not great at keeping his room tidy; but he is only 7 and I'm absolutely delighted with the contributions he is already making around the house. I hope it will help him to have a little bit of pride in his surroundings.
I couldn't find our chore chart online, but I've found something similar on Amazon. 
This post contains an affiliate link.