In a couple of weeks time families will be sitting down to enjoy Christmas dinner together. Christmas dinner is a real culinary highlight, it's essentially the best roast dinner ever. Every family has their own favourites, some have beef or goose, most have turkey; I like Yorkshire puddings and several different types of stuffing. But one thing everyone has in common is Christmas dinner cooking nerves.
I take it in turns to host Christmas Day with my brother, this year is his turn, last year it was mine. I've been cooking Christmas dinner by myself since I was about 16. The two things that make it tricky are juggling everything for oven and hob space and getting everything cooked and ready at the same time.
Each year there are typically around 8 people sat around our table for Christmas dinner. Out of this number, two are vegetarians and one of those has a number of intolerances to take into account. The meat eaters are very traditional, but whatever number of chipolatas your family eats, we have to double it. There's a lot to juggle.
Typically our Christmas dinner includes –
Turkey
Veggie alternative, often a pie of some sort
Yorkshire puddings
Roast potatoes
Roast parsnips or sweet potatoes
Sprouts (obviously)
Carrots
Red cabbage
Stuffing – two kinds
Meat gravy
Veggie Gravy
Bread sauce
That's just for the main course. We usually have a starter of soup and bread rolls and pudding is a selection of options (because each one of us is fussy) including Christmas pudding, mince pies, chocolate pudding, ice cream, and a selection of boozy creams and sauces. We also offer a cheese board and mints. It's a huge meal!
Last Christmas I sat down and thought about it. I didn't want to spend my Christmas Day stuck in the kitchen peeling sprouts and being a skivvy for everyone. I wanted to enjoy Christmas morning with my family and not have too much stress. With a bit of forward planning and prep the day before I managed to pull off my most relaxed Christmas in years.
Here's what I did. I looked at what food I would be serving and planned what I could cook the day before and what would be better cooked on the day. Most of the food could be cooked ahead of time and warmed through before serving, even the roast potatoes. So this is what I did.
Turkey
This had to be cooked on the day, but that's fine. Getting ahead of myself meant there was plenty of oven space for it. We also got a turkey crown from the butchers which cut down the cooking time by quite some margin.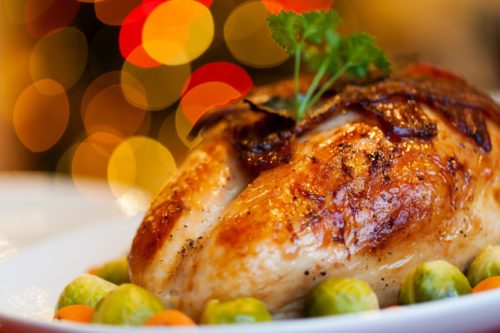 Veggie alternative
Last year I served a nut roast, because I love nut roast. I found a nice ready made one and cooked that on Christmas Day.
Yorkshire Puddings
Yorkshires really need to be made just before serving, there are no cheats here. Also, there's no shame in buying the ready-made ones. Yorkshires can be tricky and who needs the added pressure on Christmas Day?
Roast Potatoes
I've been cooking my roast potatoes on Christmas Eve for years. Everyone has their own way of doing them, I like fluffy potatoes cooked in groundnut oil, but cook them however you prefer. Take them out of the oven when they're starting to colour, remove them from the roasting tin and put them on a cooling rack with some kitchen towel underneath. Leave them to cool, once they're cool, put them as they are on a plain baking tray with no extra oil. They'll take an extra 20-30 minutes to warm through and crisp up on Christmas Day, but they're really crisp, fluffy inside and because they've not sat in oil for too long they're not as oily as they could be.
Roast parsnips or sweet potatoes
Just like the roast potatoes, you can pre-cook your parsnips or sweet potatoes ahead of time. They come out just as good as freshly cooked ones, just do what I did with the roast potatoes.
Sprouts
If you've not put these on to boil at the end of summer, you might as well cancel Christmas. Not really, but it's the old joke. Sprouts aren't great re-heated, so I leave them to cook on the hob on Christmas Day. It's worth allowing a bit of extra time for them to cook because somehow vegetables always take much longer to cook when you've got guests waiting.
Carrots
Carrots really lend themselves to re-heating. I did almost all of my veg prep on the morning of Christmas Eve, all the peeling and chopping and par boiling and roasting. I boiled up my carrots with a bay leaf and once they were almost cooked through, I drained them, put them in a microwavable dish with a knob of butter and covered them with cling-film. Just before serving, I gave them a 5 minute blast in the microwave, a stir to coat everything in the little knob of butter and we had perfect carrots.
Red cabbage
I generally cook my red cabbage in the slow cooker, but I follow this recipe. Instead of cooking it on the hob I use the slow cooker, yes it takes a few hours more, but it frees some precious kitchen space and it's the kind of thing which can happily sit and more or less look after itself. Last year I made this on Christmas Eve, then turned my slow cooker on low on Christmas morning, by the time Christmas dinner was being served it was heated through and delicious.
Stuffing
I love a good stuffing and as a vegetarian they are a good filling addition to my plate. I have traditionally used packet bought stuffings and pimped them up by stirring a spoon or two of cranberry sauce though before baking, but last year I made two different stuffings from scratch. Yes, it did take a bit more time, but they were so much tastier and the texture was lighter and less gluey. I'd urge you to find some time to make your own if you can. It was remarkably simple, especially if you've got a food processor to do the chopping for you. I made my stuffings on Christmas Eve and they just needed baking in the oven on the day. I'm converted to homemade stuffing now.
Meat & Veggie Gravy
I am a big old cheat when it comes to gravy. Sometimes I make my own, but even with my plan-ahead precision, Christmas Day is too hectic for me to be faffing about too much. You can either make your gravy ahead of time and freeze it, or go to your local shop and buy a tub of fresh ready-made gravy and heat it up on the day.
Bread Sauce
Bread sauce is one of my favourite things about Christmas Dinner. Weirdly only my husband and me really like it, so it's not something I devote too much time to. I'm happy to cheat, cheat, cheat with bread sauce. Buy a fresh tub of it from a good shop, bang it in the microwave and serve. Half the table will pull their face at it anyway, whether you've spent an hour stirring a pan or 2 minutes waiting for the mircowave to ping.
I think Christmas Dinner is all about picking your battles. For me, freshly made stuffing is really worth it, but I don't need to stress of flat as a pancake Yorkshire puddings on Christmas Day. My stress-free Christmas dinner planning was noticed, gone were fraught scenes in the kitchen with me looking hot and bothered, instead I served a very good dinner with all the cool control of a northern Nigella.
Next year it's my turn to cook Christmas Dinner and I know that I'll do exactly the same again. Maybe I'll cook my gravies from scratch and freeze them, but spending Christmas Eve morning doing all the prep and most of the cooking is time very well spent.
Do you have any top tops for an effortless Christmas dinner?