At the start of the summer fidget spinners were everywhere. Kids (and some adults) couldn't get enough of them. The fidget spinner craze, much like the loom band craze a couple of years ago pretty much fizzled out as quickly as it started. But it was clear that fidget toys had found their way into our hearts and were here to stay. Over the summer a new fidget toy was launched, coming all the way from Japan – are you ready to master the MOKURU?
A MOKURU is a handheld wooden toy which was originally designed to test and train your balance and focus. Crafted from beech wood into an eye catching and cool design, players can flip, tip and spin one MOKURU or master more.
MOKURU is said to help you to focus, improve your concentration, develop your imagination and alleviate stress.
These new fidget toys are small enough to fit in your pocket. Once you've mastered the standard flip it's worth watching some YouTube videos where MOKURU masters demonstrate new skills you can learn. It's great fun and the boys really enjoyed learning how to do simple flips, there is a little knack to it but once you've figured it out, it's flipping fun!
They are available in black (Genbu); green (Matcha); orange (Kirin); white (Byakko); red (Suzaku); blue (Seiryu) and yellow (Inazuma). Each colourful MOKURU is 9cm tall and is suitable for ages 3+. They cost around £10 and are available from a wide range of retailers.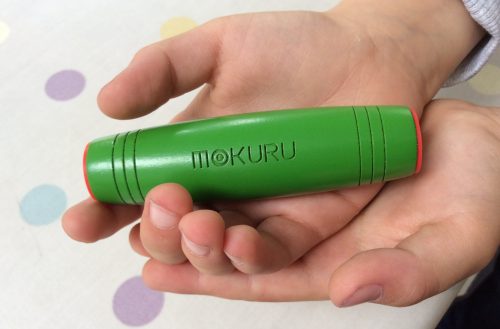 Having played with our MOKURU for a while I can vouch for its stress relieving qualities. Plus the boys absolutely had fun playing with it. I can see that these will be great competitive fun in the playground. I really like that you can learn tricks and skills with it, now if only I can get the boys to give me a turn!
To find out more about MOKURU, visit their website.
Note: We were sent a MOKURU for review purposes. All images and opinions are our own.