This year Thunderbirds Day is on 30th September 2017 and fans all over the world will be celebrating their favourite show. My 6 year old son is just getting into Thunderbirds and loves to dress up. What better way to enjoy Thunderbirds Day than to dress up as Scott Tracy!
Thunderbirds have been part of the national psyche since 1965. I remember watching the original series when it was repeated in the 1980's and being in turns slightly terrified of the puppets and transfixed by their adventures. It's incredible that the series is still going strong after all these years.
As the series has grown and changed, so have the costumes. This Scott Tracy costume is a fully printed all in one suit made from 100% Polyester all in one suit with velcro fastening at the back. It comes with a pair of gauntlet forearm accessories which you just velcro on and a detachable printed satin sash.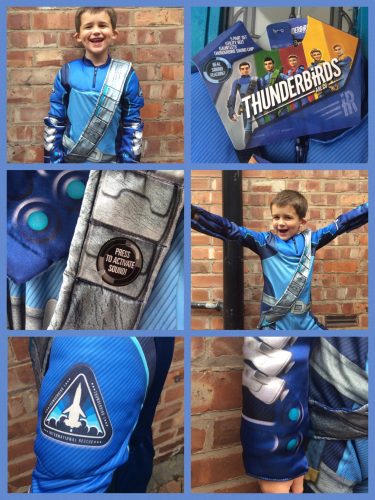 The satin sash features a sound chip which when pressed plays the "FIVE…FOUR…THREE…TWO…ONE…" blastoff sequence. The costume is machine washable, but you need to remember to remove the sound chip before you put it in the washing machine.
You can see the Thunderbirds sound chip in action in the short video below…
The sound chip is a brilliant addition, my son loved pressing it and as you can see in the video, he likes to strike a hero pose when the blast off noise is played.  The costume has a nicely printed front and a plain back. The detail is excellent and the accessories make this well worth the money.
This Scott Tracy costume is easy for my son to get on and off by himself. We ordered size 7-8 and I'd say it was true to size. My son is nearly 7 and fairly tall for his age. It fits him well and there's still some room for him to grow. I like that the sash and gauntlets are detachable and he liked that too. This Scott Tracy Thunderbirds costume is a hit!
Pretend to Bee stock a good range of kids costumes, including Thunderbirds favourites like Scott Tracy, Virgil Tracy and Alan Tracy. The costumes are priced at £19.95, which I think is a about right for a costume of this quality with the sound chip included.
We were sent this costume for review purposes. All images & opinions are our own.