AD/Gifted. It's fair to say that we absolutely love How to Train Your Dragon in our house. The boy is pretty darn obsessed and frequently dresses up as our Viking hero, Hiccup. When I mentioned that we were being sent a How to Train Your Dragon Hatching Dragons Egg, he was beyond himself with excitement (as was I).
The How to Train Your Dragon Hatching Dragons Egg contains one large egg (with a hatching dragon inside), a fish accessory and an instruction book. It is suitable for ages 8+ and comes well packaged to (hopefully) prevent the egg from breaking at any point.
Together we removed the egg from its packaging and read the instructions. There are two keys at the bottom of the egg which need unscrewing. Once this has been done, you're encouraged to gently play with the egg to wake the dragon inside up. If you listen carefully, the dragon inside the egg starts to tap and make noises.
After around an hour, the egg starts to glow a little and then hatches. This was incredibly exciting and there were lots of joyful shouts as we gathered round to watch the dragon emerge from its shell.
We helped baby Toothless out of the shell and very soon we were figuring out how to play with our new dragon. His eyes light up, his wings flap and his ears twitch. He roars, snorts, snarls and he is just brilliant.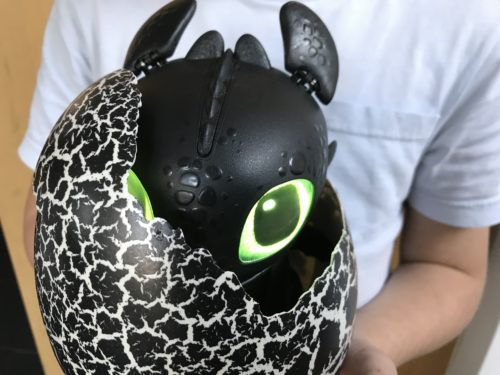 If you hold the fish accessory to his mouth he makes chewing sounds and the burps. Hold your hand over his chest and that activates the plasma blast where his mouth glows blue and he makes the plasma blast noise. If you talk to him, he'll respond with head and wing movements, and lights and sounds. If you play music to him, he bops along to it. He is ace.
Toothless is really, really cute. I asked the boy what he liked best about him and he said everything and that he was the best thing ever. He's played with him pretty constantly for the last few days which I always take as a positive sign.
I think this How to Train Your Dragon Hatching Dragons Egg is brilliant. It's really well done and Toothless is just a bundle of baby dragon joy. This hatching dragon is available from a wide range of retailers including Amazon for around £59.99.
We were sent this How to Train Your Dragon Hatching Dragons Egg for review purposes. All images and opinions are our own.