Over the weekend I went to Spring Fair in the Birmingham NEC, if you've never been, it is THE event to attend if you're a retailer looking for new suppliers and stock. I went with two hats on, as a blogger and as the Marketing and PR person for a toy shop I work for. The Spring Fair was huge, every hall in the NEC was filled with a different category, but we (me and That Lancashire Lass) were primarily interested in the children's toys. It was a long and tiring day, but it was incredibly interesting and I've got a better idea about what will be under everyone's Christmas tree this year (too soon?).
Here are my top picks from the toy hall at Spring Fair 2016 (Hall 5).
Hippychick Ltd (stand 5Eo1) – Pl-ug Den Building Kits, retailing from £12.99, it is an innovative den building kit, by using the specially designed hooks, suckers, clamps and pegs you can build your own indoor or outdoor den. All you need is a sheet or blanket and some imagination.
Bigjigs (stand 5G01) – I'm a big fan of the Bigjigs wooden toys, but their "Green Toys" were new to me. The Green Toys are classic toys constructed from recycled plastic and other environmentally friendly materials. I particularly liked their selection of chunky vehicles which had a nice retro vibe. Suitable for ages 1+ I know my 5 year old would very happily play with these.
Fiesta Crafts Ltd (stand 5L04) – Fiesta Crafts are well worth looking at full stop, but my favourite new thing on their stand were their "Stickabouts". A bit like modern day fuzzy-felt, the Stickabouts have a scene on a board and a load of "stickers" to place, but these glue-free stickers easily peel off and re-stick anywhere you want. If they stick to the wall then they easily peel off. This is a bit of a welcome sticker revelation to me, all the fun of stickers but without having to spend hours scraping them off the wall.
Clockwork Soldier (Stand 5M49) – these are a new brand to me, but I loved the look of the products and I want mentally picturing them on the wall in my son's room and seeing him playing with some of the craft kits. They have a beautiful range which includes space, dinosaurs, robots, superhero and dress up. I'm going to campaign hard to see these in the toy shop, I think they'll sell incredibly well!
Keel Toys (Stand 5D20) – I can't resist a cuddly toy, but my eye was drawn to the Christmas Elves, these are soft, cuddly and smiley Elves which would be a great gift for December, they're reasonably priced and would be a jolly visitor from the North Pole is you were going to do Elf on a Shelf this year.
Brainstorm Ltd (Stand 5L27) – one word, StikBots. I think these are going to be pretty big this year, these are small pose-able plastic robot figures with suckers on their hands and feet which you can use to create stop-frame animations with using a downloadable app. They come in an array of colours and will be great for creative kids.
Orchard Toys Ltd (Stand 5K41) – this stand is worth visiting just to see the Giant Railway Puzzle linked up to the Giant Road Puzzle, and the village and the airport. The Giant Road Puzzle is a classic, and they've recently launched a whole raft of new puzzles to accompany that and I know that these will sell incredibly well in the toy shop and kids will love making their own town and transport system at home. Fantastic.
Marbel Ltd (Stand 5K50) – the Marbel stand was showing off some of their new Hape wooden toys products, I'm not sure what if anything I'm allowed to say, but if I use the words "wooden train", "xylophone" and "just awesome" you know what to look out for later this year. Hape products are really well made wooden toys at a good price, great for babies and toddlers.
Stepping Stones Marketing (Stand 5L47) – are the UK distributors for Lilliputiens baby and nursery toys, these are quite captivating soft toys, but with hidden surprises designed to stimulate the child's senses. We were quite taken by the lemur cot and pram toy as well as the adorable fox, we liked the gender neutral colouring and the quality of these products.
Jamm Toys (Stand 5L10) – I'm new to Jamm Toys and I was impressed by their range, in particular the cool retro wooden scooters stood out to me, they look like Vespas but for small children. I'd be surprised if I don't see a few of these being scooted around our local park come Christmas!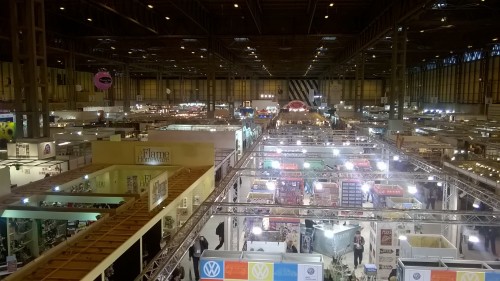 Spring Fair was enormous, if you're going then go with a game plan, wear comfortable shoes and be prepared for a very long day.
I've picked out just ten things I loved from my day at Spring Fair, but honestly there were hundreds of fantastic toys to go and marvel at. I had a really interesting time and I learned an awful lot about toys and what will be big this year. Fantastic!