I've been holidaying in Cornwall since I was a baby. Cornwall has a way of getting under your skin and making you fall in love with it. Whenever I've visited Cornwall I've always picked up momentoes to remember the wide blue skies, rugged scenery and clean sandy beaches once I get home. One thing I've been wanting to bring home for a while has been a vintage style Cornish art poster. Artist John Dyer specialises in these. If you've ever visited Cornwall, you will almost certainly have seen his work on display somewhere.
The vintage style Cornish art poster I chose features a print from the well-known and acclaimed Cornish artist Joanne Short. Working with her husband and fellow artist John Dyer, Joanne has spent much of the last 25 or so years travelling around Cornwall and painting the stunning sights that she sees. You can buy their original paintings and prints in The John Dyer Gallery in Cornwall and they have recently launched their new range of affordable vintage style framed art posters.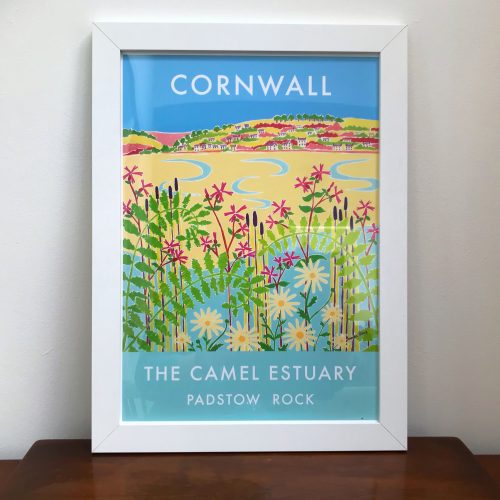 We visit Cornwall several times a year as a family. Last year we spent a wonderful weekend in Rock as guests of Sharp's Brewery and Chef, Nathan Outlaw. It was such a special weekend that I wanted something to remember it by. When I spotted this beautiful Vintage Style Seaside Cornish Art Poster by Joanne Short of the Camel Estuary, Rock in Cornwall I had to have it.
This colourful print reminded me so much of that wonderful weekend. I especially liked that it wasn't the standard Padstow Harbour scene. The print came beautifully framed and looks fabulous in my light, bright kitchen; it really lifts my spirits every time I look at it.
The framed A3 sized print costs just £45 and I'm delighted with it. The white frame really helps the colourful print "pop" out. I love how the pools of water shimmer on the soft sand and how they're beautifully framed by the elegant flowers in the Cornish hedgerow. Looking at it, you can almost smell the fresh sea air!
I love my Cornish art print so much; I think I'm going to buy a few different prints and make a feature wall of them. That way when I look at them I can remember all the wonderful holidays we've had and all the beautiful places we've visited.
For more information, or if you want to buy a print of your own visit The John Dyer Gallery's website.
I was sent this Vintage Style Cornish Art print in return for this review. All images and opinions are our own.