We were sent these K'Nex sets for the purposes of this post. All images and opinions are our own.
My lad has been a big fan of all kinds of construction toys since he was a small boy. Now aged 10 he still spends his spare time building giant LEGO sets and constructing all kinds of things using the various K'Nex sets he's got. We were sent three more K'Nex set to play with and review, so here's what he thought about them.
K'Nex is suitable for ages 4+, with smaller sets aimed at younger kids and their little hands; as well as more complicated, more fiddly sets for older children available.
Kid K'Nex Safari Mates
We began by taking a look at the Kid K'Nex Safari Mates. This set costs £10 and contains 21 colourful pieces. It comes with an instruction booklet with instructions on how to build five different safari animals.
Kid K'Nex can help teach little ones the basic concepts of building and the art of constructing with these durable K'Nex pieces. With this set, your kids can create simple safari characters on their own. This set includes special parts and pieces that are only available in Kid K'Nex sets, such as a swishing tail and foam mane, which really help to bring the characters to life.
We thought this was a great starter set for younger children and at £10, it would make a great gift for an aspiring builder. The set is available from Argos and other retailers.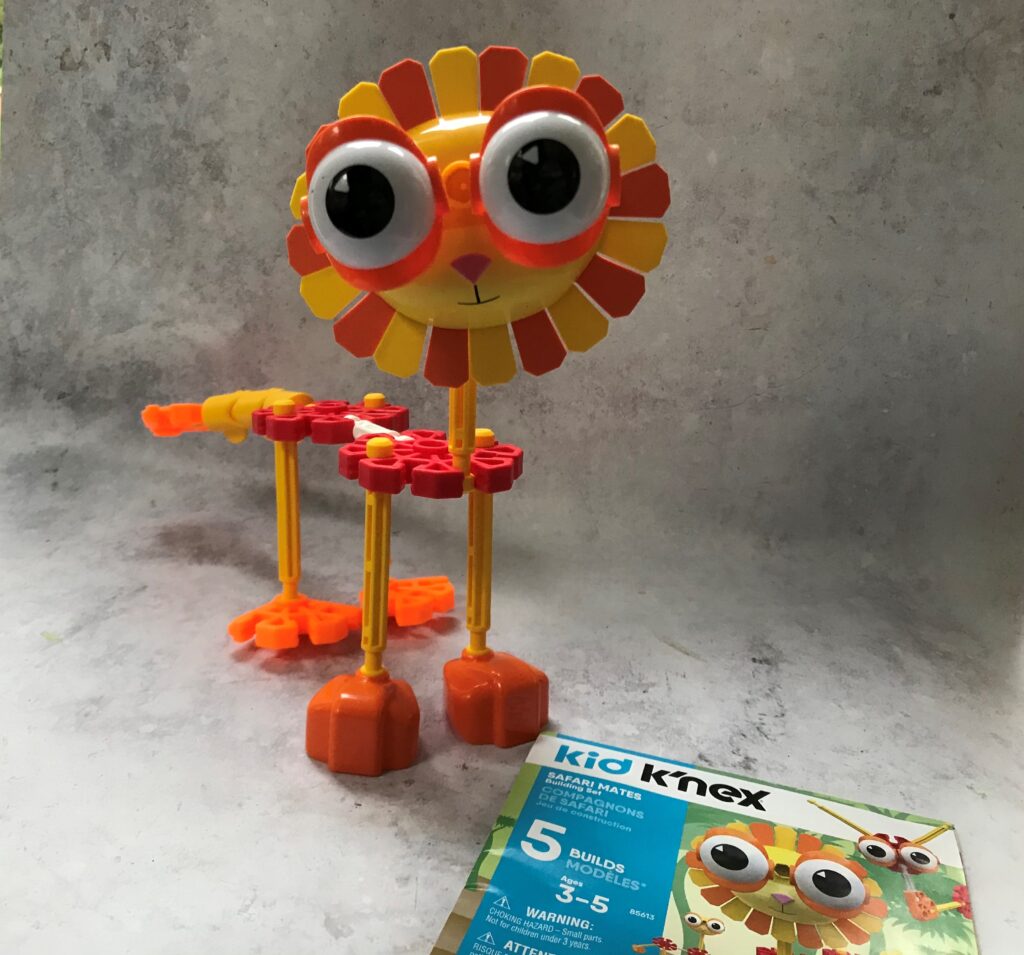 K'NEX Imagine 50 Model Building Set
The K'Nex 50 Model Tub is the most brilliant box of pieces, and just what my son needed to complete his collection. It contains 417 brightly coloured classic pieces and a booklet of 50 easy step-by-step creations to build; from a dragon, a swing ride, a robot and more. You just connect the pieces together using the plastic rods and connectors to see your ideas become a reality.
He chose to make the dragon, and as the set is aimed at older children, some of the pieces were harder to put together, so we did help him a bit. It was tremendous fun and it took him a good hour to make the dragon. With 50 different makes to choose from, there's a lot of focused STEM fun to be had in this box.
The K'Nex Imagine 50 Model Building Set comes in it's own blue plastic storage box; which is great for taking away on family trips or for storing at home. The box makes it easy to pack away without any hassle.
The set is for ages 5-10 years, but I'm sure my new 10 year old will play with this for another few years at least. This brilliant box is available from Smyths Toys Superstores and other online stores.
K'Nex K-Force Battle Bow Building Set
The last set we put to the test was this K'Nex K-Force Battle Bow Building Set. This is ideal for older children and aimed at those aged 8+. It contains 165 pieces and a set of instructions to show you step-by-step how to build one of four different blasters. Included in this building toy are five soft foam darts that can be fired up to 75 feet; a blaster chamber, a quick-fit grip, a preload ring and two dart holders.
The K'Nex K-Force Battle Bow Building Set costs £25 and looks like the most grown up kit of the three we put to the test. My boy had serious fun putting this together. The instructions were easy to follow and he only need a tiny bit of help with the fiddlier pieces.
It is a great set and well worth the money. Fans of Nerf will enjoy this, my son said it felt like he was building his own Nerf, which was praise indeed. We did have to have a small health and safety chat about not shooting the dog or me; but it was a huge hit and this is definitely a winner! The K'Nex K-Force Battle Bow Building Set is available from The Entertainer and other retailers.
We've been fans of K'Nex for a good few years now. He loves building and creating with them and I really like that it's such a great educational toy, one which helps his dexterity as well as stretched his mind. I'm pleased to see that the range has expanded and that there's lot of budding builders to choose from.