As a family we were confirmed holiday cottage enthusiasts. The thought of being subject to strict meal times and the rules of a hotel didn't really appeal. We've always enjoyed our own space and the freedom a holiday cottage in the UK has allowed us. We never, ever thought we'd find ourselves on a plane heading to Majorca to stay in a hotel. But one week abroad has completely changed our pre-conceptions, and our holiday horizons have been well and truly broadened.
Over the October half term we flew via Jet2 from Manchester to Majorca, for a week in the sun at the 4 star Sol Katmandu Hotel in Magaluf. On paper it was the polar opposite of every holiday we've ever had. But we discovered that sometimes doing something completely different is exactly the right thing to do.
The Sol Katmandu Hotel
We arrived at the Sol Katmandu after an early morning flight from Manchester. The hotel reception was busy but we checked in after a fashion and we found our way to our room.
The room was clean, well decorated, it had a little fridge, free WIFI, a TV with a couple of English kids TV channels and a rather lovely bathroom. What it didn't have was a balcony you could sit out on, something we really wanted. Probably about two thirds of the rooms had balconies, so this would be something I'd make sure I had in future.
The Sol Katmandu is set in an aquatic theme park and the amenities include a buffet restaurant, 2 bars, 3 outdoor pools and a sunbathing terrace. The hotel offers complimentary passes to the Katmandu Park's amusement park, a kids' club and nightly live entertainment.
Food & Drink
We were staying on a half board basis, which meant we had breakfast and dinner in the hotel. Lunch and drinks were extra, but we found that half board suited us. We weren't completely tied to the hotel and it mean't we explored the local cafes and bars in the area.
For me breakfast was the highlight of my foodie day. There was a very extensive breakfast buffet including a wall of fruit, continental options, English breakfast, Spanish breakfast, yoghurt, unlimited tea, coffee and juice as well as a pancake and fried egg bar where you watched your pancakes being made.
We all fell into our own pattern, the small boy would have scrambled eggs and sausages followed by a pancake with chocolate sauce. My husband would start with fruit and then go for a selection of English breakfast items and I would have a couple of slices of the most delicious tortilla I've ever had, usually with some grilled tomatoes, then I'd follow that with pancakes, because the pancakes were excellent.
Lunch was usually a casual affair, we'd pop to the nearby Aldi for bread and cheese, or go to a local cafe and have a sandwich or share a pizza. We never really felt like eating much after our big breakfast.
Dinner in the hotel was another buffet style feast. I'm a vegetarian and I did find my options were a bit limited, but there were always a few veggie dishes to choose from. They also had child friendly options such as fish fingers and chips, though the boy liked to choose his own and often went more exotic dishes.
Hubs was in his element at dinner, there was a grill where chefs cooked to order fish and meat such as lamb chops and steak, and there was more often than not a paella available.
The salad bar was excellent, I liked to fill up on salad and have a little plate of other bits and pieces before launching myself at the desserts. The dessert selection was excellent, there were individual tubs of ice cream and beautiful jewel coloured cakes and treats, as well as cheese and biscuits.
Being half board we had to pay extra for our drinks, but we were content to have a drink or two in the bar after dinner, so the drinks bill did not add up.
Tip: If you like sangria, the sangria in the pool bar is made from scratch and is delicious, whereas the sangria in the hotel bar inside is ready mixed and not quite as good.
Entertainment
The Sol Katmandu has a holiday club for little ones each day and they all seem to have a really good time. Lots of dressing up and doing fun activities. The boy went for a superhero morning and made his own cape. He had a great time. The kids club is included in the price of the hotel and it's well worth looking at if you fancy a couple of peaceful hours to yourself.
In the evenings there was entertainment, but we didn't really go to this, we preferred to go back to our room, wind down and have an early night.
The Swimming pools
The Sol Katmandu has three swimming pools. One small splash pool, one deeper round pool and one longer pool. None of them are heated, so it is a bit bracing if you dive in and you're not expecting it. But after an afternoon in the sun, the cool water of the pool is exactly what you need to come back to a normal temperature.
For us the pools were a big draw. Each day we'd ask the boy what he wanted to do, and all he wanted to do was play in the pool, so that's more or less what we did. The local shops sell inflatables and water guns, and all the little boys seemed to have them, so their days were filled with water fights and lots of laughter.
Like most hotels there was a big of a culture of claiming a sun lounger with a towel, which meant that most of the well positioned loungers were reserved for invisible people for large portions of the day. Despite this, we managed to spend most of our days lounging by the pool, relaxing and reading, going for a quick dip and just chilling out. It was bliss.
The sol katmandu park
One of the biggest selling points of this hotel is the amusement park attached to it. As a resident of the hotel you get a free play pass which gets you into the park and entry to the attractions (though terms and conditions apply etc).
The Katmandu Park has two excellent crazy golf courses – probably the best I've seen, and most days we played a round of golf after breakfast before heading out for the day or settling down round the pool.
There is the "Upside Down House" where everything is a crazy optical illusion. I would have liked to have spent longer exploring the house but the boy was a bit freaked out by it. So we rushed through it, which was a shame.
There's also the Katlantis Splash Park which looked great, but was closed as October is the end of season for the resort. There is also a 4D cinema and various interactive games, rides and a soft play centre, most of which are indoors. There's also a bar where you can grab a snack and a drink.
During the week we were there, the park wasn't too busy and we only had to queue a few minutes for things. I liked the park and would like to have explored it more and taken more time over things, but the small boy was a bit freaked out by the house (in fairness he was a bit poorly that day and out of sorts) so we just stuck to the crazy golf.
I think the Katmandu Park is great, and if you've got lively kids its a great way for them to burn off some excess energy. Quite a lot of the attractions are indoors, so if you're wanting to shelter from the sun for an hour, then the park is a good option for that too.
#kathalloween
We were staying at the hotel during the October half term, the week before Halloween. The Sol Katmandu goes all out for Halloween and even has it's own hashtag. The hotel and park were gloriously decorated, even the beds had a Halloween bedspread on them!
At dinner on the last night all the staff were dressed up with Halloween headgear and most of the desserts had wriggly jelly worms on them, or creepy spiders – the amount of effort they put in was well worth it. I loved it. The hotel has a Steampunk vibe anyway and lends itself to being decorated up for an occasion.
What we liked about the Sol katmandu
This was our first family holiday abroad and it smashed a lot of our preconceptions about that kind of holiday.
♥ We really liked being able to properly relax and have someone else cook and clean for us while we were away.
♥ The pools were great. They were clean and a life guard was around at all times.
♥ The Katmandu Park is a great addition and we spent about an hour a day in the park. The play pass is free and there are some really fun things to do in the park.
♥ Going half board gave us the best of both worlds – we could eat breakfast and dinner in the hotel, but we could also go out, explore and have lunch.
♥ October was a great time to go abroad for us, it was still hot and sunny during the day, but it wasn't uncomfortably hot. Magaluf was fairly quiet and felt like more of a family resort than a party destination at that time of the year.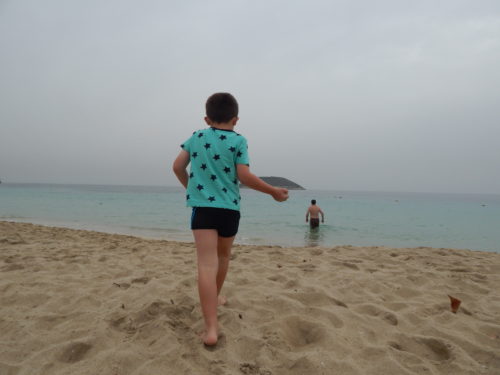 Our week at the Sol Katmandu was a real game changer for us. We now understand just how fantastically relaxing these kinds of holidays are. Whilst there's still room in our lives for our self catering holiday cottage breaks, I think having a gloriously relaxing holiday where someone else cooks and cleans for you, where you can sit and relax for hours by the pool and everyone's batteries recharge.
We really liked the hotel. It was clean and comfortable, the facilities were great, the food was good and the pools were a huge hit. We came home with big smiles on our faces, we just need to decide where to go next.
We were invited guests of The Sol Katmandu and Jet2 Holidays. All images and opinions are our own and this is a true reflection of our experience.