From the first moment I held my newborn son in my arms, I was head over heels in love with him. No, scratch that. Since the moment I knew I was pregnant I loved him. I loved him fiercely and protectively, as a mother should, right from the very start.
He's six and a half now and I can't really remember what my life was like before he came along. He has completely changed my life. In the seven years he's existed I've gone to hell and back with my health. I have tortured myself over his health (he's fine, he's absolutely perfect, but it wasn't always so). I've lost my career and forged a new one. But most importantly, I've discovered what it is to love and be loved back unconditionally.
At various points in his six and a half years, I've stopped and looked at him in wonder and thought "right now, right at this very moment he could not get more perfect. This is the best age he has ever been, it can't get better than this surely?"
I've made a point of keeping that moment in my head and storing it away, because it's impossible for him to get any better than he is at that moment, but it does. I've had so many moments of "oh my god, this is the perfect age" that I'm pretty sure that every age is the perfect age.
Before you decide that I look at my son through rose-coloured spectacles, I do not. I am incredibly aware of his faults. I am the person who bears the brunt of his tantrums. I'm the person who has to pick up after this child who walks through the house leaving tornado like destruction in his wake. I am the person who tries to teach him to be a good human, full of care and compassion. My son is not perfect, he is flawed like the rest of us. He's human, not super-human, but still lovely.
A few weeks ago, over the Easter school holidays we had a night away in Blackpool, just the two of us. We had the best time and it was so good just to chill out and do things together at our own pace. We missed his Dad of course, but it was only two days and he was busy working anyway.
It's been a tough 12 months for us. I lost my Dad and he lost his Grandad. It's been a year of tears and sadness. There have been splashes of light and colour, it's not all been widow's weeds and lighting candles in remembrance. But our two days away reminded us both of the good things we have in each other and it has really brought us closer together.
I never thought I'd bond with my son the way I have. When he was two years old I had an accident, followed by two emergency surgeries. I was bed ridden and full of pain medication for 8 months. In that time I was a zombie who couldn't care for myself, let alone anyone else.
My amazing husband stepped up and parented for the two of us, but in that time the mother-son bond was damaged and it's taken a lot to get it back. We've always loved each other, always enjoyed being with each other, but his go-to parent has always been his Dad and I've often felt excluded.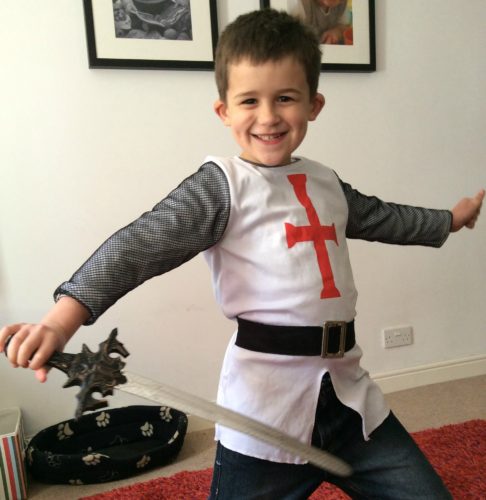 Last night my son sleepily presented himself at my bedroom door. He wanted a cuddle because he couldn't sleep. So he got in with me, we cuddled and then he fell asleep in my arms. I looked at him in the orange glow from the street light outside and my heart swelled with love for him. He is as good as it gets and I am delighted with that.
Right now at this moment, this is the best he has ever been. This is peak Benjamin. He cannot possibly get any better than he is right now. He is funny, helpful, kind, caring, loving and very much his own person. Six and a half is the best age. He is the best, my best and I am blessed by his presence in my life and the bond we share.