I wore a dress last night and didn't die. I haven't worn a dress since *counts on fingers* pretty much primary school. I am not a girlie girl, I live in jeggings and t-shirts and am very happy thank you very much. However, I was invited to a swanky do and I needed to wear something I'd not had to sponge the stains off, something a lady might wear. So stand by people, I'm writing a fashion blog post. This may never happen again so savour the moment!
Not being accustomed to frock buying, I enlisted the virtual support of my friend Daisy, she'd recommended ASDA as a decent place to buy nice dresses which were comfortable and more importantly pretty cheap. I was going to a fancy do where I needed to cover up a bit but still look moderately bang tidy.
With her help I chose a lovely maxi dress from ASDA, it cost me just £18. As you can see from this hasty and rather unflattering snap taken by hubs (and I'm stood in front of a pile of socks which are waiting to be balled up), the dress is sleeveless which wouldn't do, so I bought a large scarf from Primark (£3) to wear as a wrap, the wrap is artfully strewn on the bed beside me. I'm a total pro at this fashion blogging lark!
The dress had a very flattering and quite respectable neckline, perfect for the occasion. I teamed my posh dress with a necklace, also from ASDA which cost me £6 but I really like it and think I'll wear it again and again. I added a pair of pearl (ish) earrings I'd had tucked away (not pictured).
Probably my favourite thing was my Primark envelope clutch bag which cost £4, someone (a man) helpfully pointed out that it looked like an ipad carrying case, and yes my ipad does fit and no I won't be using it for that. The bag had a slight rock chick edge to it which I liked, making the outfit fractionally more me (blundering, ageing indie kid).
I rarely wear make up, so made a special effort for the night, one big thing I did was paint my nails. I bite my nails so decided the week before to paint them to stop me nibbling, it worked and although my nails were short, they didn't look terrible. I am a big fan of the Barry M Gelly Hi Shine nail varnishes (£3.99 each), I have a lovely blue one, but I treated myself to a slightly more respectable colour, this is Papaya, which is a nice bright coral colour, perfect for the summer.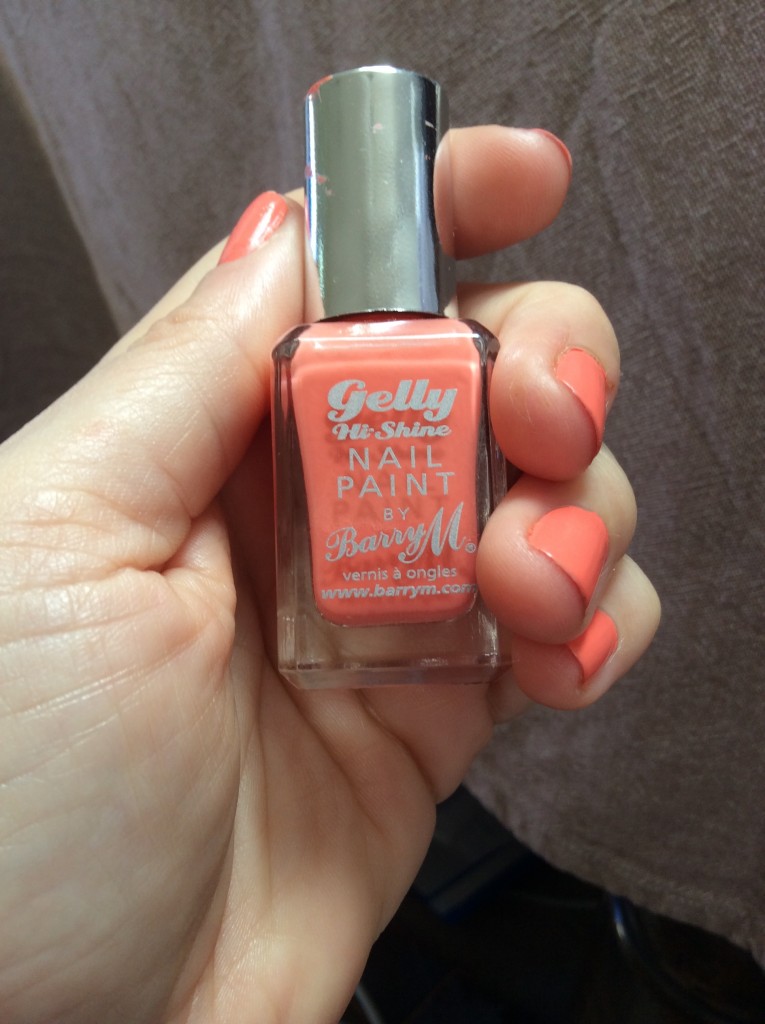 So that was my look. I managed to survive an evening in a dress, I didn't disgrace myself and I didn't chuck my dinner down my front. I'm calling all that a win. I just need another occasion to wear my posh dress to now!