We are always on the look out for games we can take out and about with us. I always like to have something fun but tiny in my bag to bring out when we're out for dinner or on a train journey or something. On a recent trip to Coniston in the Lake District I had one such thing up my sleeve – Quirk! The Card Game.
Quirk! is a new card game from Emmerse Studios. The pack contains 56 cards including; 13 Characters cards (39 cards), 7 Tactics cards, 3 Defence cards and 7 Skip cards. The pack also includes instructions. It's a bit like a mad combination of Go Fish and Exploding Kittens. It's actually remarkably easy to pick up and lots of fun. My almost 8 year old loved it, and his 40-something parents enjoyed it too!
Each player gets dealt three cards to start with. The aim of the game is to collect three matching Quirk cards. The player with the most sets of cards at the end is the winner. Simple, yes?
I'll be honest and say we did read the instructions a few times before we started playing, and we weren't 100% sure of what we were doing when we began, but once we'd played for five minutes, it all became perfectly clear.
You act out the Quirk card you want to any player of your choosing. So on your turn you might wink at one of the other players, they have to guess you're after the wink Quirk card and if they have it, they give it to you. If they don't, they say "Go Quirk" and you have to pick up a card from the top of the pile. There are tactic and defence cards which you can play if you need to. The instructions for using these cards are written on them. It's all much easier than it sounds.
Quirk is suitable for up to 6 players aged 5+ and we all really enjoyed playing it. Each game takes about half an hour to play, so it's great for a quick game when you're out.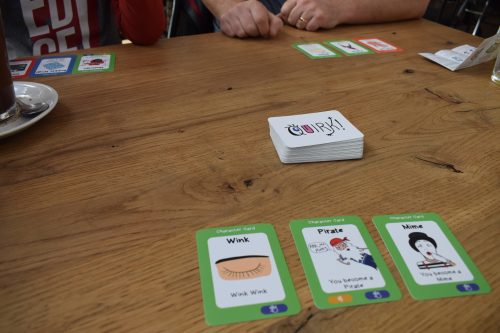 It's a standard sized pack of cards, so it's very transportable and great for keeping in the car for trips out and weekends away. It can get a bit silly (my husband squawking like a parrot did attract some attention in the cafe we played it in), so if you're self conscious, don't play it in public.
Also available is Quirk! Legends which is along the same quirky lines, but with unicorns, dragons, superheroes and evil villains. Both games are available on the Quirk! website for £10 or on Amazon for £12.99.
We were sent Quirk! for review purposes. All images and opinions are our own.