Pokemon is as popular as ever; with both big kids and little kids collecting cards, chasing down the characters and playing the games. I know the big thing at the moment is collecting and swapping the cards with friends at school. It is a fun, sociable activity for kids to get involved in. If you've got a Pokemon fan in the family, I've picked out some Pokemon themed presents which would delight any keen collector on Christmas Day!
Snuggle up with your own Pokemon plush toy. Made by Tomy, this officially licensed 8" plush features one of the most popular characters from the series – Popplio. This lovely Popplio plush is about 20cm tall, and is very soft and cuddly and well made. As well as the popular Popplio, you can also collect Jigglypuff, Eevee, Riolu, Banette, Hoopa, Sylveon, Togepi, Pichu, Psyduck, Litten, Rowlet and Zygarde.
Keen collectors need a safe place to store their cards. This Pokemon Tin includes a starter collection of 50 Cards including holograms and rare cards. It's the perfect gift for anyone starting out or for those who would like a 50 card boost to their collection and a handy tin to keep them in.
This Pokemon Shining Legends Collector Chest Game is a treasure trove of Pokémon goodies! This sturdy metal case contains more than a dozen special treats. The Pokémon Shining Legends Collector Chest includes five Shining Legends booster packs, three foil promo cards featuring Pikachu, Latinas, and Latinos! Plus a cool Pokémon coin, two colourful sticker sheets, a collector's album to store your favourite cards, a Pokémon notepad and pencils.
Whatever you buy for the Pokemon fan in your life, I'm sure they'll love it. You could stuff a stocking with collectors cards maybe. Or if you're buying them a soft plush toy from Tomy; a collectors tin or a whole case full of exciting Pokemon themed goodies; they're bound to have a great day collecting them all.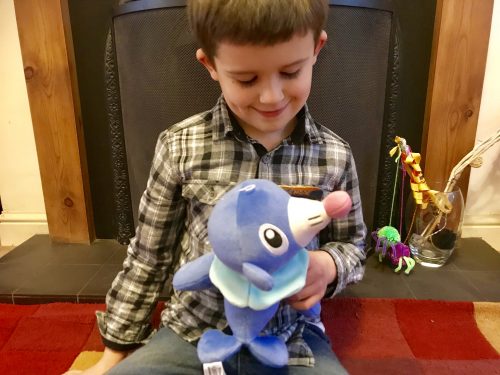 Will you catch em all?