Legoland Discovery Centre Manchester is one of our nearest Merlin attractions. We like to visit a few times a year, but we've not been since they refurbished last year. We'd heard that over Easter they'd launched a new Space Mission area and we were very keen to check it out. Plus there was the relatively new Ninjago area which we still hadn't seen. Over the Easter break we swung by for an afternoon of Legoland fun!
We were pretty impressed with the new layout of Legoland Discovery Centre. The cafe area had been tucked away in a colourful room of its own, most of the old favourites were still there. Mini-land had been improved with the Manchester bit looking more Mancunian than before. I especially liked the new Lego Media City building and the working tram trundling about.
As we rounded the corner to get into the main area, the boy spotted the huge Ninjago area straight away. There are a few Ninja training zones where lively kids can burn off some energy, so he dabbled a bit there, striking Ninja poses and generally getting stuck in. There's a soft play area/temple and he disappeared in there for ten minutes, returning to us with a big smile on his face. There's also a moving climbing wall which had quite a long queue, so we might have a go another time.
Obviously apart from the awesome soft play temple, his highlights from that area were the huge Ninjago figures made of Lego and the free building area where he just let his imagination run wild. It's excellent, really excellent. If you like Ninjago, you'll love this. It's perfectly thought out.
Time was ticking and we needed to go and check out the new Space Mission area. It's a reasonably small space compared to the Ninjago area, but they've really packed everything in. You can build and launch your own Lego rocket, or drive remote control buggies and explore the surface of the Lego planet. There's an animation desk where you can create your own Lego animations and lots more.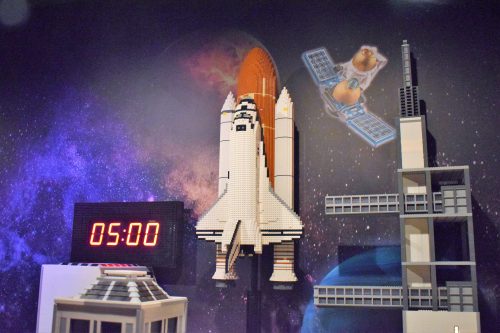 I especially liked the space shuttle which takes off every five minutes. The level of detail is pretty awesome. We spent quite a lot of time looking at everything and exploring the area. The boy really liked the control desk and anything where he can just build Lego is always a hit.
Living half an hour from Legoland Discovery Centre Manchester, we really ought to visit a little more often. We've got Merlin Annual Passes, so it's no bother to pop in for a quick hour of Lego fun, or a bit longer if we have the time.
If you're local we can totally recommend the new Space Mission area and the Ninjago area is fantastic. Everything else has been spruced up for 2018 too.
For more information about Legoland Discovery Centre and Merlin Annual Passes, visit their website.
Disclosure: We are Merlin Annual Pass Ambassadors this year. All images and opinions are our own.