One of the most fun things about Mummy's iPad is the Facetime app. The boy loves to Facetime his dad, or his cousin, or anyone really. I remember walking to the phone box at the end of our road to make a phone call, so all of the communication technology available today is almost a thing of wonder to me. Even now there's something a bit extra special about being able to video chat with someone. The video chat loving boy and I put a set of Spy Gear Spy Video Walkie Talkies to test. What did we think of this latest accessory for junior spies?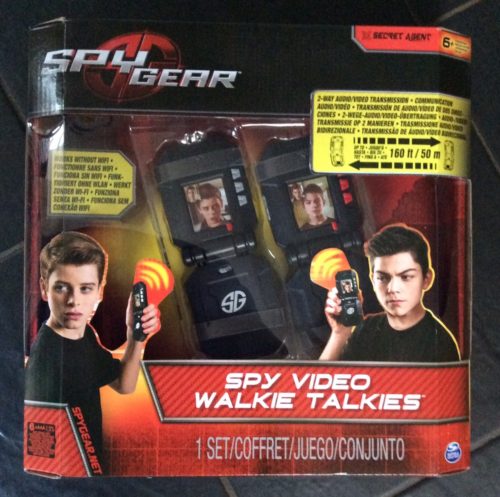 The Spy Gear Spy Video Walkie Talkies from Spinmaster are compact and easy to use. The set comes with two walkie talkies which just need batteries adding before use.
They have a long range (up to 160 feet) and allow you to communicate with video and audio without using Wi-Fi or data. The walkie talkies are simple to use and quick to set up. Each handset uses 3 AAA batteries and they're suitable for children aged 6+.
The Spy Gear Spy Video Walkie Talkies are really easy to set up, just get them out of their packaging, put the batteries in and switch on. To sync the two walkie talkies, when you switch them on press the bottom of the three buttons on each walkie talkie at the same time. The video should show a full screen of the person you are talking to, and in the top left should be your picture – just like on Facetime!
They come with detailed instructions, but they're really straight forward to set up and use. Just don't forget to sync them when you switch them on and make sure to turn them off when you're done.
Once they are synced you can start your spy adventure – we tested them all over the house and down the street. The picture was crisp and the sound was pretty good too. The small boy really loved the Spy Video Walkie Talkies, he's had normal walkie talkies before and has liked them, but these are next level spy fun.
These Spy Gear Spy Video Walkie Talkies are around £59.99 and are available from a wide range of retailers including Amazon. They are well made and good quality, small enough for my six year old to comfortably use and without too many confusing buttons.
I can see my boy having a lot of fun with these and his friends. These walkie talkies would be great for siblings to play with and should keep them occupied with serious spy business for quite some time.
Disclosure: We received the Spy Gear Spy Video Walkie Talkies for the purposes of writing this review, all opinions and images are our own. Contains Amazon affiliate links.