When I was a little girl, all I wanted for Christmas was a Mr Frosty. Times haven't changed much and high on my son's wish list was a Mr Frosty Choc Ice Maker. Mr Frosty didn't arrive for Christmas, but as a birthday present. This meant only one thing – making choc ice treats for the weekend!
Like all Mr Frosty products the Mr Frosty Choc Ice Maker is a simple idea; easy to follow instructions and solidly made, simple equipment. All you need is some ingredients – your favourite yoghurt, some chocolate for melting and some sprinkles if you're feeling fancy.
The Mr Frosty Choc Ice Maker comes with all the equipment you need, though you might want to also use some kind of board to keep your table tidy from any drips or dribbles and a spoon for stirring and spooning the melted chocolate. In the box there are some silicon molds to create your own Mr Frosty & Penguin frozen chocolate figures; plastic lolly sticks and an igloo which you melt the chocolate in. The roof of the igloo is also where you stick your lolly sticks while you chocolate sets. There is also a set of very simple, easy to follow instructions.
To make your choc ices, slot your lolly sticks in the mold. Spoon in the yoghurt, I tapped the mold a few times so the yoghurt would settle. Then put this in the freezer for a minimum of three hours. We spent our three hours at his birthday party, which was nice.
When we got home I checked that they were frozen, which they were. I left them in the freezer until I was ready for them as they melt quite quickly. Following the instructions, melt the chocolate in the igloo in the microwave and once it's melted take your lollies out of the freezer, remove them from the mold and quickly spoon the chocolate over.
The chocolate does set very quickly, so if you are planning on sprinkling them with anything, do it quickly. Set them in the igloo roof to set and then eat them or put them in a box back in the freezer if you're saving them for later.
The Mr Frosty Choc Ice Maker is well made, simple and easy to use. Our choc ices were really tasty (we used a good quality vanilla yoghurt) and it was really fun to use. It's a pretty tidy kit too, other than a smear of yoghurt and a dribble of chocolate, there was no mess.
Now we understand the process, the world is our lobster. We could cover them in nuts, change the yoghurt flavour, swirl through peanut butter, anything. I can see us playing around with this again and again. It's such a simple kit to use. It's brilliant.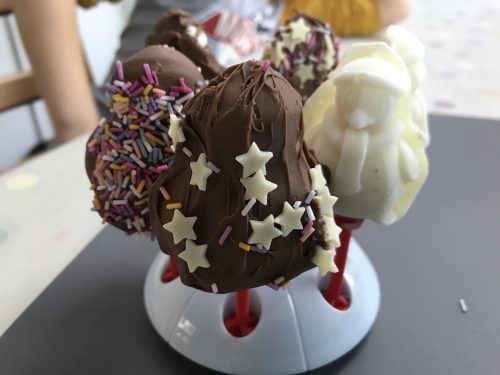 The Mr Frosty Choc Ice Maker kit costs around £12.99 which I think makes it a nicely priced Christmas present idea. Mr Frosty Choc Ice Maker is available in most toy shops and supermarkets such as ASDA and Smyths Toys.
We were sent Mr Frosty Choc Ice Maker for review purposes. All images and opinions are our own.