Last Updated on June 20, 2018 by HodgePodgeDays
This week we've been playing a new board game from Orchard Toys – What a Performance! It's kind of like charades, but with a lot more going on. We properly laughed when we played this game and it would be a great game for small-ish groups of people or families.
What a Performance is great to get the whole family laughing and playing together. Race your way around the performance board to be the first player or team to reach the finish. Along the way you'll have to act out a scene, make lots of fun noises, do funny actions and activities along the way. Can you pretend to be a monkey, make a noise like a firework or wiggle your ears? If you can't, use the magic decoder and reveal your hidden forfeit on the back of the cards!
There are over 300 fun challenges to perform, so there's never a dull moment.
The box contains a jigsaw game board, 100 activity cards, a spinner, a sand timer; a card holder, a performance star, four character stands; four playing pieces, a magic decoder, a dice and an instruction leaflet.
The game is fairly simple to set up. You put the jigsaw board together, this comes in four pieces and takes seconds to do. You choose which colour you will be, red, green, yellow or blue and take your playing pieces and put them at the start.
The youngest player starts by rolling the dice and moving along the board accordingly. When you land on a square Say/Act/Do you take a card and read the corresponding instruction. If the instructions has "Guess" written on it, the other players have to set the timer and guess what you're doing within the time. There are other squares, Spin means you spin the spinner which will choose your challenge. Landing on the ? square means you take a card and using the magic decoder, you follow the hidden instructions on the back of the card.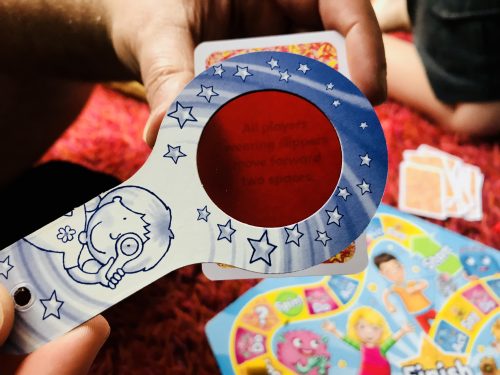 It's all very simple and really lots of fun. The game had us doing monkey and dinosaur impressions, sit ups, touching our toes, it had us wiggling our ears and talking in silly voices. It was tremendous fun and just the kind of thing to bring out the silly in anyone.
As with all Orchard Toys games, What a Performance does have some educational benefits. It promotes imaginative play, encourages personal and social skills and can encourage group play. I think one of the biggest things we noticed with it, was it was really great for getting him to think about how to follow the instructions. This gave him more confidence to stand up and be silly, which is an essential life skill, or it is in my book.
What a Performance is a properly fun game. It's just the thing for building a bit of confidence whilst having a whole lot of fun!
What a Performance is suitable for ages 5 to adult and for 2 or more players. It costs £16.50 and is widely available.
Disclosure: We were sent the What a Performance game for review purposes. All images and opinions are our own.