Last Updated on September 7, 2018 by HodgePodgeDays
When you're 7 collectibles are so important. Amassing a collection of characters, swapping with your friends and trying to get the full set is the goal. In the last few years collectible characters have been huge in the UK and the newly launched SuperZings – Rivals of Kaboom (Series 1) are bound to be popular!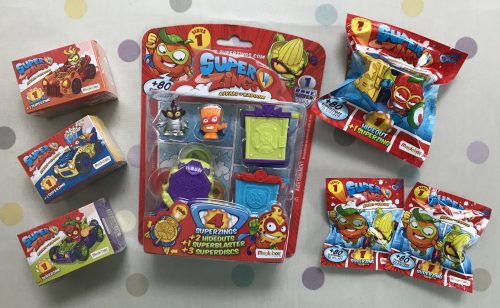 SuperZings are everyday objects (like a tiny hairdryer or cheese grater with a face, a body and a cape) brought to life as heroes vs. villains, all living in Kaboom City. There are so many fun, colourful characters and accessories to collect; each with a matching rival.
There are 80 SuperZings to collect (all have their own superpower). Plus six Silver and two Gold Rare SuperZings to collect and one Enigma Super Rare SuperZing. They use one of the eight collectible Supercars to get around and live in Hideouts (eight to collect) which can also be used to launch the characters into the air.
The range includes a Starter Pack to get your collection started. There's also a Blister Pack containing four SuperZings; two Hideouts and an exclusive SuperDisc Blaster.
The SuperZings Series 1 collectible range is very reasonably priced and seems to be priced for pocket money spends rather that parental treats. The blind bags which contain one SuperZing are 80p each. The hideouts bags which also include one SuperZing are £1.50 each and the supercars including one SuperZing are £2.50 each. There is also a Starter Pack (£5) and a Blister Pack (£7) containing four SuperZings; two hideouts and an exclusive SuperDisc Blaster.
Our verdict on SuperZings
My son thought they were really fun, he liked that they were everyday items turned into crazy superheroes. He also liked playing with the doors on the hideouts and launching the SuperZings across the room with them. We both really liked the Supercars. They are the kind of thing I'd throw into my bag to keep him entertained on a trip to a cafe.
They're prices firmly in the pocket money zone and are suitable for ages 3+. They are small, so it's worth keeping them away from younger children and pets (our dog was very interested in them, but that could be the crinkly bags rather than the toy).
The SuperDisc Blasters are lots of fun, but I did have to give the health and safety talk – don't fire it at humans; don't fire it at the dog; don't fire it at my freshly painted walls. The discs are small plastic coin shaped things which are fired out of a blaster. Great fun for my 7 year old, as you can imagine.
The boy absolutely loved them. Blind bags and collectibles are so popular and watching him open them I can see why. It's the element of mystery, the need to collect the full set and the excitement of being able to swap with his fellow collectors. if my son's reaction is anything to go by, SuperZings – Rivals of Kaboom are going to be huge!
Watch our video to see us unbox the full SuperZings – Rivals of Kaboom range!
Superzings are sold at The Entertainer, Tesco, Asda, Co-op, Spar and other shops too. For further information visit http://www.magicboxint.com/uk/index.php
We were sent these products for review purposes. All images and opinions are our own.