AD/Complimentary stay. The Park Royal Hotel in Cheshire is a 4 star hotel and spa. It's set in 2.5 acres of grounds at the edge of Stretton village, a short drive away from a whole host of family attractions. Over the Easter holidays we took the chance to have a night away as a family, to chill out and have a bit of fun together.
We had just returned from a self catering break; but as the person responsible for most of the catering, packing and organising, by the time we got back I needed a little break to get over the first one. The answer was a night at The Park Royal Hotel. Hotel stays are almost always a massive treat; having someone else cook dinner, do the washing up, make the beds and lay on a really good breakfast in the morning is just blissful.
We arrived mid-afternoon and as we checked, in the boy was given a treasure trail sheet to do while we were there. There are clues hidden throughout the hotel, find them all and you get a prize. It's a small but brilliant thing and my son loved exploring.
We spotted two of the clues on our way to our family room –  a lovely comfortable room with everything we needed and really comfortable beds. The room had free WiFi, tea and coffee making facilities, cable TV and 24-hour room service.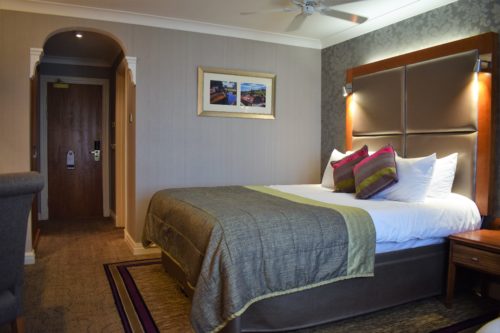 We had a quick coffee in the room, but didn't stay long as the pool has family swim times and we were all very keen to dive in. The Park Royal Hotel has a modern health club and spa with a high-tech gym. There is a 22-metre indoor swimming pool, with a sauna, steam room and hot tub. They also have a number of spa and beauty treatments available to book. 
My son was desperate to get in the pool and show off his swimming skills. There are family swim times every day, which is great if you're staying with kids; or if you're not and you want to avoid children you know when not to go for a swim.
The pool is great. It's big and there's plenty of room for everyone. My husband and I both wanted to spend some quality time using the sauna and steam room, so we took it in turns to swim with the boy. We both loved the herbal steam room which was incredibly relaxing. We all had a brilliant couple of hours by the pool, so brilliant that we decided to go back in again the next day before we checked out.
After our swim we went back to our room to get ready for dinner. The Park Royal Hotel has a formal restaurant and a casual bar and grill; we had plans to go for dinner and then meet friends who live nearby for drinks afterwards.
We had a delicious meal, I was really pleased that the restaurant had a children's menu which had a good range of meals to choose from. The boy picked his favourite – fish and chips, which was a really good sized portion which he said was dee-licious. You could tell by his almost empty plate that it was good!
We  both had starters; I had curried vegetable soup which really hit the spot and my husband chose the ham hock terrine, both were beautifully presented and delicious. For our main courses, I chose the veggie butternut squash tart with a side of triple cooked chips; he had the braised beef which fell apart as soon as you touched it.
After a seriously good meal, we retired to the bar to meet our friends. The bar was pretty busy as there was football on, but as soon as the game finished the bar emptied pretty quickly. In an act of impeccable timing we managed to finish the kids treasure trail; so we went to reception and he was given his prize – a really good activity pack and some chocolate. This kept him happy and occupied while we chatted with friends, but he'd had a long and busy day, so I took him back to our room to go to sleep.
When we got back to our room there was a plate of milk and cookies waiting for him. What a treat! It was so lovely to have a little something for him to nibble on once he'd got his PJs on. We got tucked up in bed and we all had a really long and restful sleep.
Morning came all too soon, but we were ready for breakfast. Despite my husbands determination to just have a light breakfast of fruit and yoghurt, the boy's breakfast of sausages, eggs and bacon tempted him over to the dark side. I love a good hotel breakfast, there's something for everyone, whatever they're in the mood for. From the full English, to continental style pasties, fruit and yoghurt or cheese and salami. Breakfast was a real highlight for me.
Sadly our time at The Park Royal Hotel was coming to an end. We did have just enough time to pack our bags and grab a quick hour in the pool before we had to check out.
We'd had a fantastic stay. We all left feeling really chilled out. I felt so pampered because I'd had 24 hours of someone else doing the work. We'd all benefited from a good nights sleep and it was a really family friendly place to stay. The staff were all friendly and helpful and they were really engaging and chatty with the boy.
The Park Royal Hotel is a great base to explore Cheshire. It is just 11 miles from Tatton Park and about 15 miles from Chester Zoo. It's near the Blue Planet Aquarium, Cheshire Oaks, Applejacks Farm and many, many more family attractions. It's a great choice for families; close enough to all the fun things to do, but not in a noisy city centre where it's hard to park.
We loved the little touches; like the milk and cookies at bedtime and the treasure trail. His most favourite things were his big breakfast and swimming in the pool. They might also have been my favourite things too. We were sad to leave, but really happy we'd taken some time out as a family to just hang out and have fun together. I wonder where we will end up next?
The Park Royal Hotel is a 4 star hotel and spa in Stretton near Warrington. It's a great choice for families and you can find out more about the hotel by visiting their website.
Disclosure: We were given dinner, bed and breakfast in exchange for this blog post. All images and opinions are our own.