Last Updated on June 13, 2019 by HodgePodgeDays
AD – Press Trip. Regular readers will know that I love a good glamp. I grew up holidaying under canvas, but times have changed and I like sleeping in a proper bed and not living in fear of the tent collapsing in the night (which seemed to happen with alarming regularity when I was a child). Over the weekend the boys and I headed an hour from home, to the comfort of Stanley Villa Farm Camping, just outside Blackpool.
Stanley Villa Farm Camping is a really sweet site. Located next to its own fishing lake, there are 24 pods on site. The pods are nicely spaced apart and are dotted around the edge of a field. Naturally all the children on site meet in the middle and all play together, which was brilliant for my only child. It never takes him long to make friends and before we'd unpacked the car he was running around with his new chums.
We were met by Alex, the owner who showed us to our pod and made sure we had everything we needed. The pod itself contains two comfortable single beds. We brought our own air bed and if you move the beds there's room for a double airbed. Plenty of room for two adults and two children. Each pod has its own outdoor fire pit and you can buy in optional extras, like camping chairs, or a firewood package, or fairy lights. They've thought of everything.
On site there's a games room overlooking the lake. It's a wooden lodge which had a comfortable room to hang out and play games in. There's also a kitchen area where you can make hot drinks and light snacks, tea and coffee are provided free of charge, which is nice. There are also several bathrooms with showers; they're warm and clean and a welcome change from some of the campsite facilities I've been familiar with over the years.
The fishing lake is a lovely thing to be near. The lake is well stocked with trout and we enjoyed evening strolls around it. There was lots of wildlife to be seen if you're looking in the right places. We spotted swans and their cygnets, geese, ducks, moorhens and even a hedgehog. I went for a walk at dusk and I'm pretty sure I saw a couple of bats too!
The pod is basic, but it doesn't feel like you are roughing it. You do need to take your own bedding and towels, and the other things you might need, like camping chairs. We took a cool box and couple of disposable BBQs and cooked sausages for our tea. The pods are light and bright, with big windows at the back. There are blinds too, so you can shut out the light. The fresh air and exercise meant we all slept like a dream.
We've glamped in lots of different places, this was our first pod and I was worried that it would be chilly at night. I had nothing to worry about; it was so cosy that I slept on top of my covers (even though there was wind and rain outside).
Besides the games room there's lots for kids to do; there's a Mini Play-Pod with an assortment of toys including footballs, swing balls; badminton rackets and a host of board games in the main lodge for when the weather isn't so nice.
In terms of location, it's 15 minutes drive from Blackpool and nestled in a really good spot for exploring Lancashire. While we were there we drove to Lytham St Annes for a look around the shops. It's full of really good old fashioned shops, which I loved. We also drove over to the Forest of Bowland for a walk and lunch at the Inn at Whitewell; a real treat!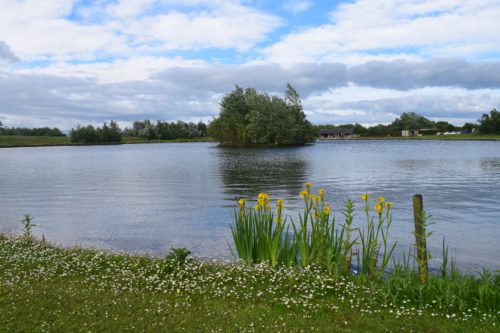 It costs from £49 to hire a pod for a night and it's a really chilled out place to stay. We thought it would be ideal if you're visiting the bright lights of Blackpool but don't fancy staying in a hotel or B&B. For us it was just a great spot to chill out. We didn't have grand plans to go to the Pleasure Beach or stroll along the prom; just getting away from home for a couple of nights and switching off from everything at home did us the power of good.
We would absolutely stay at Stanley Villa Farm Camping again. Small but perfectly formed, with all the comforts of home and with the cosiest of cosy pods. The location was great and we had a very warm welcome and a great stay.
To find out more about Stanley Villa Farm Camping, visit their website.
Disclosure: We were invited guests of Stanley Villa Farm Camping, all images and opinions are our own.