One of the key things you can do when you're refurbishing or redecorating your home is invest in new flooring. Often the sensible but uninspiring option it to lay beige carpet everywhere, but going for something a bit bolder can really help to bring warmth and life to your home. We took a look at the key flooring trends for 2017.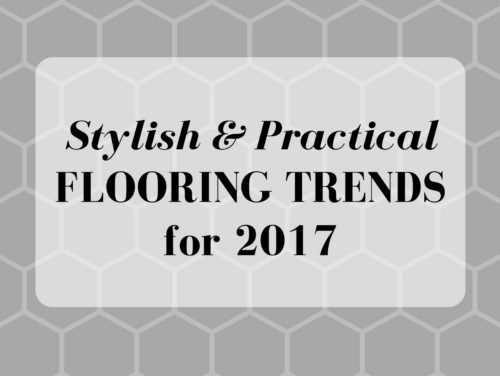 Stylish & Practical Flooring Trends for 2017
Introduce some six-sided style into your home this season with hexagon flooring. Hexagons are everywhere at the moment. They are the flooring style of choice for contemporary homes and businesses alike. Hexagons make a bold but classic style statement. A hexagon floor would look great in kitchens, bathrooms and hallways.
Floorboards continue to be a key trend. It's bye-bye blonde tones, stripped back and stained in darker tones are now the order of the day. It's up to you if you prefer broad boards or skinny slats, but don't feel you have to play it straight. Mix things up with a herringbone design, chevron, or a classic parquet style in contemporary colours.
Many people are choosing to rip up their carpets and replace them with vinyl flooring. It's a practical and stylish option. It is easy to maintain and clean, it's incredibly hard-wearing, ideal for high traffic areas in your home and can stand up to the rigours of family life.
Vinyl flooring has come on in leaps and bounds since the 1970's orange and brown lino monstrosities we remember from our childhood. It is warm under foot, with a range finishes to choose from. Whatever your personal style, amtico vinyl flooring will have a design to match.
Floors don't need to be 50 shades of brown and beige either. Be bold and inject a splash of colour into your flooring. This is 2017, there's no need to be pedestrian in your choices. The only limits are your imagination and your budget. There are literally thousands of ideas for bold flooring on Pinterest to inspire you.
This is a collaborative post.