Last Updated on October 24, 2022 by HodgePodgeDays
I think any right minded person who opened their curtains this morning and saw hail (it's blooming well May tomorrow) would have just closed them again and gone back to bed. However, we are a household of optimists and packed our wellies, a warm jumper and a waterproof and headed off to Rudyard Lake in Staffordshire to experience A Day At The Lake.
By the time we got there (about a 45 minute drive from South Manchester) the rain had dried up and the sun was winking away from behind a cloud. We parked up in the free car park and walked to the entrance, this took ten minutes on firm but muddy paths which were fine for me to walk on (I can struggle with my mobility). You can get the train for a few pounds, but we'd just missed it so chose to walk instead.
We've never visited Rudyard Lake in Staffordshire before (it's technically a reservoir) but it is incredibly beautiful. A long lake in a valley surrounded by woodland and with a small steam train line puffing up and down it.
During the day there was a full programme of events including –
Bullzini the amazing tightrope walker
Storytelling
Marching bands
Victorian Bather's Juggling Show
Circus sideshows
Mesmerising Mermaids
A Helter Skelter and Swing Boats
Rowing boats and Vintage boat trips on the lake
Donkey and steam train rides along the shore
Craft and Vintage shopping at the Treacle Market
Street food and local ales
Everything you would expect from a Wild Rumpus event! For us the real highlights were Bullzini who walked a very high tightrope across the lake which had everyone watching in awe. The small boy enjoyed the donkey rides, the fabulous storyteller in his caravan, the ice cream from Gingers Comfort Emporium and the vintage boat trip.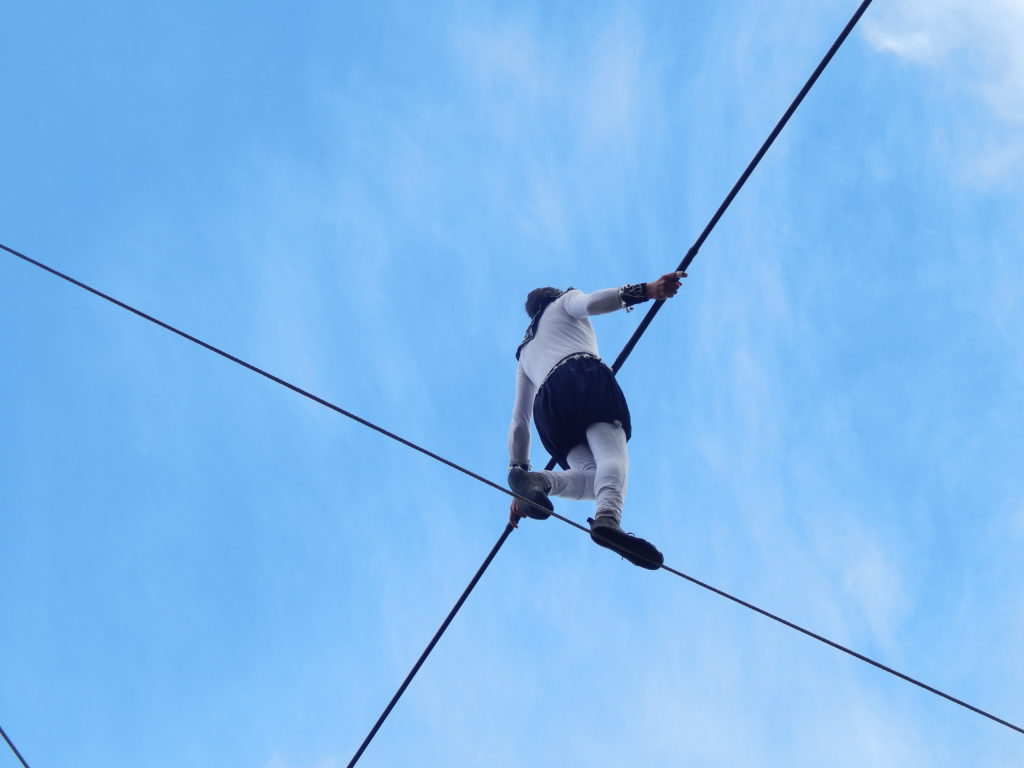 Hubs enjoyed exploring the street food stalls and loved the scenery and I really enjoyed the City of Birmingham Symphony Orchestra Ensemble who played their socks off. I thought the Victorian Bather's Jugglers were great fun and very brave to be wearing so little given it was raining ice. I enjoyed pottering around the Treacle Market and had I brought more pocket money I'd have filled the car with treasures!
The weather was a bit hit and miss, lovely blue skies followed by dark clouds and heavy rain. Thankfully we dodged the worst of it by taking a boat trip for one heavy shower and having a cuppa in the picnic yurt during the other downpour. It's an event in the countryside, so it's always wise to wear wellies and bring a waterproof coat to these things anyway. I don't think many people minded the weather and almost everyone was dressed for it.
It's a small site, but there's plenty to do and explore, plus lots of different street food stalls to enjoy (don't forget the hog roast up near the Treacle Market which shouldn't be missed if you enjoy a porky lunch). There's a new spectacle to enjoy on the hour, every hour from 11am until 8pm and lots to do in between. We had a lovely day out, discovered a very beautiful spot and the boy came home with a head full of aspirations to be a tightrope walker (oh dear).
For the full line-up and tickets visit www.dayatthelake.org.uk.  Follow A Day At The Lake on Facebook and Twitter at #dayatthelake.
A Day At The Lake will take place on 30 April, 1 and 2 May 11am – 9pm at Rudyard Lake, Staffordshire ST13  8XB.