Last Updated on December 7, 2021 by HodgePodgeDays
The small boy and I love visiting Sea Life Centres. We share a love of jellyfish, stingrays and sharks so wherever we go in the UK, if there's a Sea Life Centre nearby we will be there! Earlier this year we had a couple of days in Blackpool and while we were in town we took the chance to visit the Blackpool Sea Life Centre.
Blackpool Sea Life Centre is on the promenade, about five minutes walk down from Blackpool Tower. There are ticket deals to be had, so if you're planning to go buying tickets in advance, or multi-attraction tickets are a good bet. We have a Merlin card, so we just showed those on the way in and we were given a guide and waved through.
Like all Sea Life Centres, Blackpool Sea Life Centre is laid out in zones – Rockpool, Atlantic Depths, Quayside zone, Stingray Adventure zone, Kingdom of the Seahorse, Submarine Explorer, Rainforest Adventure zone, Shark Mission and Ocean Tunnel and lastly the Jurassic Seas zone.
We have been to Blackpool Sea Life Centre before and we really like spending time in the Ocean Tunnel and the Stingray Adventure Zone. When we visited this time, we spent quite a lot of time with the octopus.
Whenever we've seen octopus before they've always been hidden away in the back of the tank having a sleep. This time the octopus was curled up in the corner at the front of the tank. We stopped to have a proper look at this amazing creature and we caught its eye. We're not sure if we spooked it (we don't tap on tanks or anything) or if it just wanted to show off for us, but we had a good five minutes with it swimming around and puffing itself up for us. Thank you Mr Octopus.
We also spent quite a lot of time watching the stingrays. There was a really good viewing area where you could pop your head in the domes inside the tank and watch all the fish and stingrays swim by. Sadly we'd just missed the stingray feeding session, but it did mean we had the area almost entirely to ourselves for a little while.
Blackpool Sea Life Centre is a really good sized aquarium with a fantastic collection of weird and wonderful creatures. It's slap bang in the middle of Blackpool prom and the perfect place to take the family if it's raining, or too sunny, or if you just want to spend a couple of hours feeling chilled out watching the creatures.
If you time your visit carefully you might catch them feeding the sharks. Or you could go backstage to find out more, or maybe catch a special talk. My tip is to go as soon as it opens when it's quiet and it feels like it's just you and the fish.
I wonder which Sea Life Centre we'll visit next?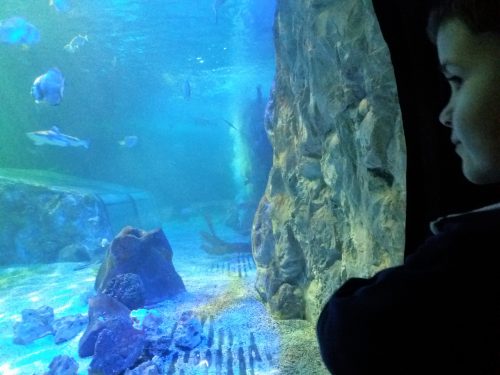 For more information about Blackpool Sea Life Centre visit their website.
I'm a Merlin Annual Pass Blogger Ambassador. I have been given a Merlin Annual Pass to do this review with my family.  I wasn't paid to write this post.