Over the weekend we popped to the Trafford Centre to run a few pre-Christmas family errands. I sent my husband in to do battle with the hordes of shoppers and I took the small boy for a look around SEA LIFE Manchester, a calm oasis in a sea of Christmas chaos.
We arrived very early and we were the first people through the door. We had our Merlin passes scanned and we headed off to explore. We are regulars at SEA LIFE Manchester, and we always enjoy our visits. The boy loved being first in and it seemed like we had the place to ourselves (we didn't, other people were a couple of minutes behind us).
We quickly sought out some of our favourite sea creatures. I love the jellyfish and we spent some time changing the coloured lights in their tank and seeing how different they looked in the different lights. I also love the stingrays, they glide so gracefully through the water, they're really calming to watch.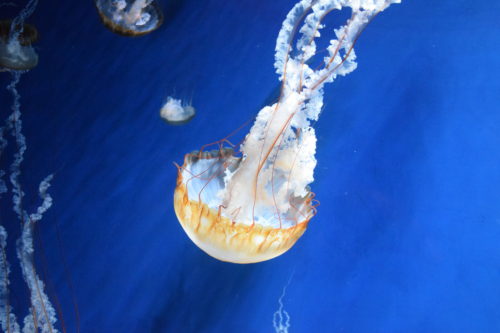 The boy is a big fan of the turtles, so we watched them swim in their tanks and learning more about them. He's also very keen on seahorses and "Nemo fish". Although he's not keen on touching, we did spend quite a lot of time in the rockpool area. The staff were very helpful and told us all about the sea creatures which live in the tank. Some of which we might find in a rockpool in the UK.
We had a lovely explore of SEA LIFE Manchester, it felt so peaceful and it's the perfect antidote to the busyness of Christmas. We'd spent an hour or so peacefully chatting about all of the creatures. We learned a little more about them and wondered what they'd be having for their Christmas dinner.
I can absolutely recommend SEA LIFE Manchester if you want to do something with your family this Christmas that isn't full of flashing lights and fake snow. It was an absolutely delightful way to spend the morning.
What's on at SEA LIFE Manchester this Christmas?
This Christmas at SEA LIFE Manchester, guests can take part in a festive fish hunt. Come face to fin with a Snow Flake Eel, Humbug Fish, Angel Fish, Star Fish and even a Turkey Fish!
Excitingly, during the evenings of 17th, 18th, 22nd and 23rd December, visitors can see beautiful diving mermaids in the tropical ocean tank. The Mermaids will grace the water in a spectacular dive with the sharks and Ernie, the giant green sea turtle.
Find out more about what's on this Christmas on the SEA LIFE Manchester website.
I am a Merlin Annual Pass Blogger Ambassador. I was given a Merlin Annual Pass to do this review with my family. I was not paid to write this post.