Being a judge at the International Cheese Awards is my dream job and once again this year I got to live my dream for one day in Nantwich, Cheshire.
The International Cheese Awards is the largest dairy industry event in the UK. This year's awards saw 300 judges and 158 stewards descend upon the cheese pavilion to judge 5183 different cheese and dairy products across hundreds of categories. That itself is a massive organisational feat, but throw in a lunch for 1350 and you can see why the International Cheese Awards is considered to be the best dairy event in the world.
The International Cheese Awards draws judges from near and far. In my judging team were Lavinia Newell, a retired cheese-maker from the UK and Sue Arthur, director at Over the Moon Dairy Co and New Zealand Cheese School. Both Lavinia and Sue were incredibly knowledgeable and took their time to explain what characteristics we were looking for in the cheeses we were judging.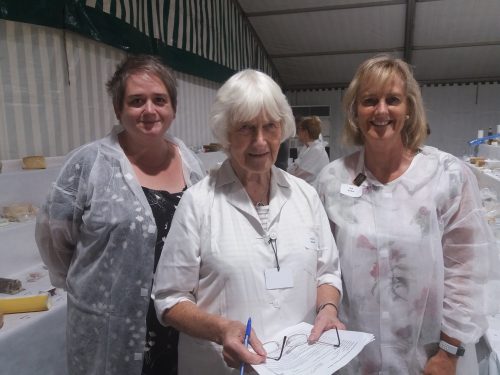 Together we judged two categories – DP2 "Farmhouse / Traditional Cheshire
Cheese – White. Any weight" and DP151 "Soft, Semi-soft or Cream Cheese without Additives – other than Blue Veined Cheese – With Rind. Open to non UK producers".
The traditional Cheshire cheese category has just 9 cheeses to judge, which was a fairly straight forward task. Lavinia explained that we were looking for a white, crumbly texture. This mellow cheese should break down between your fingers like butter and it should have a slightly nutty flavour. Ultimately we chose the Wensleydale Creamery entry as our winner. Each winning cheese is then put forward to be judged against all the other category winners to find the supreme champion.
Our second category, the soft, semi soft or cream cheese category had 39 entries which was much harder to judge. There were so many different styles of cheese; from brie to Camembert, burrata to goats cheese and almost everything in between. The winner was an absolutely divine Italian burrata from Masseria Posticchia Sabelli. I suspect it will be hard to find in the UK, but it was an absolute joy to eat.
And just like that, my judging shift was over for another year. All of the winners had been taken away to be judged again with the supreme champion being announced after lunch.
The lunch at the International Cheese Awards is legendary. Lunch saw 1350 enjoying a champagne reception; followed by a lunch of cold meats and hearty salads, delicious puddings made by Mrs Harvey. I'm not sure who this pudding goddess is, but I'd like to get to know her better. Somewhere between the puddings and the epic cheeseboard, the winners were announced.
The winner and Supreme Champion was Belton Cheese for their Cheshire, a well deserved win! You can find all the winners here on the International Cheese Awards website.
The International Cheese Awards runs alongside the Nantwich Agricultural Show in Cheshire. You can visit the International Cheese Awards and the cheese pavilion on 25th July 2018, but it'll be back again next year if you've missed out!
If reading this has given you a sudden craving for cheese, you might enjoy these mini cheese and pickled walnut quiches.