Last Updated on February 9, 2022 by HodgePodgeDays
After 17 years of marriage, flamboyant romantic gestures on Valentine's Day are a thing of the past. It's not that we don't do romance, it's just that we've got different things to spend our money on. For many years now Valentine's Day for us has been about homemade cards and smaller, more meaningful gifts. I usually bake something sweet to share with the boys, this year I've made some romantic rose cupcakes, and they're sure to be a hit.
A little while ago, whilst browsing the reduced yellow stickered items in a deli, I found a bottle of Holy Llama Rose Extract Spice Drops. They were a bargain, so they ended up in my shopping basket and then in my baking cupboard at home. If you don't have Holy Llama Rose Extract Spice Drops, substitute this with whatever rose extract you have.
I've been a bit worried about trying out my Rose Extract. Rose is one of those flavours which if you use too much of, whatever you've made will end up tasting like Granny's soap. If you go easy and add a little at a time, everything should turn out rosy.
Romantic Rose Cupcakes
Ingredients:
4oz butter or margarine
4oz caster sugar
2 eggs (large)
4oz self raising flour
1 teaspoon baking powder
5 drops of Holy Llama Rose Extract Spice Drops
For the buttercream:
250g icing sugar
250g butter (softened)
3 drops of Holy Llama Rose Extract Spice Drops
Red food colouring
Method:
Pre-heat your oven to 180° and put paper cases in a bun or a muffin tray.
Cream your butter and sugar in a large mixing bowl. Add the rest of the ingredients and using a hand mixer combine until the batter is smooth and airy. When you add your rose extract, taste the batter to check the levels of rose flavour. Remember, a fair amount of the rose flavour will bake out of the cupcakes, so bear this in mind. I opted for a not very rose flavoured sponge because I knew the buttercream would be where most of the flavour was.
Dollop a large dessert spoon of the cake batter in each case and bake in the oven for 20 minutes. Once cooked remove from the oven and leave cool on a rack.
While your cupcakes are cooling, sift your icing sugar and beat together with the softened butter. Add your drops of rose extract, beating thoroughly and tasting as you go. You can always add more, but you can't take it away!
Once you're happy with the flavour, add a few drops of the red food colouring and mix well and add more colouring until you're happy with the shade of pink you've got. Make sure your buttercream is well combined and smooth.
Once your cupcakes are cool, put your rose flavoured buttercream in a piping bag with a star piping nozzle – I used a Wilton 2D nozzle. Starting in the middle of the cupcake, swirl your buttercream around until you've got a buttercream rose shape. If you're not sure how to do it, watch this short video.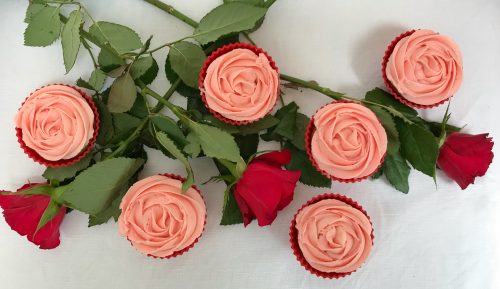 Tip: Once you've finished decorating your rose cupcakes, you could pop them in the fridge for an hour so the buttercream firms up a little before serving.
These Romantic Rose Cupcakes are really pretty and very easy to bake. The icing is much easier that you'd think and you can also scrape off and re-do any which you're not happy with. I'm no expert cake decorator, but with a little bit of practice and patience, you'll be piping buttercream roses like a pro!
If you enjoyed this recipe, you might also like my tangy marmalade cupcakes.