If I utter the words "school uniform" and "boys" in the company of the parents of boys a collective sign of despair goes around. The small boy (aged 5) came home on his last day before February half term with a hole in the knee of his trousers, the sole hanging comically off his new (bought at Christmas) school shoes, a white polo shirt that was now grey and covered in felt tip and a too-small school jumper. All of his uniform was beyond saving, so it all went in the bin.
We were sent a few new items from Trutex for him to put to the test. His school uniform is a smart and quite forgiving navy with black or grey trousers. Trutex sent us…
a navy crew neck sweatshirt
a pair of junior sturdy fit trousers
a navy polar fleece
As you can see he looks pretty happy with his new uniform. He certainly looked very smart and he loved his new school fleece.
The trousers we chose were sturdy fit with an elasticated back, he's still at the age where he's pulling trousers on like jogging bottoms, so these seemed the best option. He's a tall boy for his age and has just had a growth spurt, so these should hopefully see him through to the summer and hopefully beyond. The fabric is thick and good quality, and the seams have been well stitched, they seem like they'd be able to withstand the rough and tumble of the playground.
The crew neck jumper is cosy with good stitching, and at size 5/6 long enough for my long boy to still have room to grow into. It fits well and is easy for him to pull on and off by himself.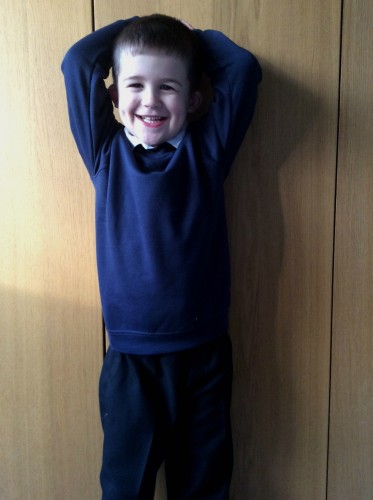 The polar fleece jacket is his favourite new thing, ultra cosy and it fits him really well. He likes the zippy pockets where he can keep his treasures safe and sound. And it fits snugly under his waterproof jacket, so when it's wet he can still be warm. As we move into spring and towards summer he will wear this jacket more and more, it's very roomy without looking ginormous, so I'm confident that it'll last him a good long while, and fleece washed beautifully too, so if he gets it mucky it's no problem.
Our new Trutex School Uniform items appear to be very good quality, and importantly they operate an ethical trading policy, ensuring that their school uniform items are made ethically, so no child labour, no long working hours, no sweatshops are involved. I try not to think too hard sometimes about the realities of how some of our clothes are produced, but knowing that these are ethically traded does make me feel very positively about them.
Keeping a five year old boy looking reasonably smart and respectable in his school uniform can feel like an uphill battle, buying better quality, hard-wearing, easy care uniform makes a big difference. We're very happy with this Trutex school uniform, it's nice to see him looking both smart and adorable!
Visit the Trutex website to find your nearest stockist of Trutex school uniform.
Note: We were sent these items of Trutex school uniform for review purposes. All images and opinions are our own.