Last Updated on September 1, 2018 by HodgePodgeDays
On a recent girls weekend we all brought along some pampering treats. The aim of the weekend was to relax, have fun and return home with our skin glowing and feeling pampered. In my box of treats I took some body scrubs, hair treatments and a selection of Montagne Jeunesse face masks for the girls. I put the Montagne Jeunesse Dead Sea Mud Mask to the test. How did my middle-aged skin get on with this mask?
The Montagne Jeunesse Dead Sea Mud Mask is an ultra deep pore cleansing mask made from Dead Sea mud, lavender and sea kelp nutrients. The mud helps to draw out impurities and open blocked pores to leave you with clean, soft skin. The mask is apparently ideal for oily skin, is PETA certified cruelty free and is Vegetarian Society Approved.
To use the Dead Sea Mud Mask, cleanse your face with warm water. Then you apply it evenly all over your face and neck with your fingertips. Take care to avoid your eyes and mouth. Then relax for 15 or so minutes while the mask dries, you might feel it crack when you move your face.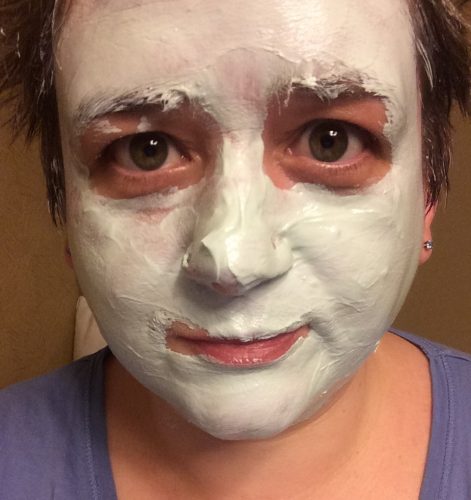 Once it's dry and cracking, wash the mask off. I found it easiest to hop in the shower to rinse it off. Your skin should feel soft and really clean.
Dead Sea Mud Mask – My Verdict:
I am a big fan of Dead Sea Mud Masks and I've tried lots of different mud mask brands over the years. I found the Montagne Jeunesse Dead Sea Mud Mask gave a really thorough cleanse and my skin did indeed feel squeaky clean afterwards.
The mask smelt good, there was a nice gentle lavender scent but without it being overpowering. The mask felt thick and was easy to apply. I did feel that it dried my skin out a little; but I don't have the kind of oily skin the mask is designed to treat. It's perhaps more appropriate for teenage skin. Having said that, I'm pleased with the results and I would use this mask again.
The Dead Sea Mud Mask comes in a 20g sachet and I usually find if you're frugal with the masks there is just about enough for two applications. I bought the mask from Boots and it cost me £1. The Montagne Jeunesse range of masks is widely available in chemists and supermarkets.