Yesterday I had a cracking day out at the International Cheese Awards which runs alongside the Nantwich Show in Cheshire. I spent the whole day there, and in my excitement I blogged the story so far from inside the press tent before the winners had even been announced. Today I'm sharing some of my highlights from the day, as well as the winners.
There were 4,443 award entries, which meant that the cheese pavilion was literally packed full of cheese. There was something for everyone, whatever kind of cheese you liked it was there. It was also a great opportunity to try new cheeses that you might not have encountered before.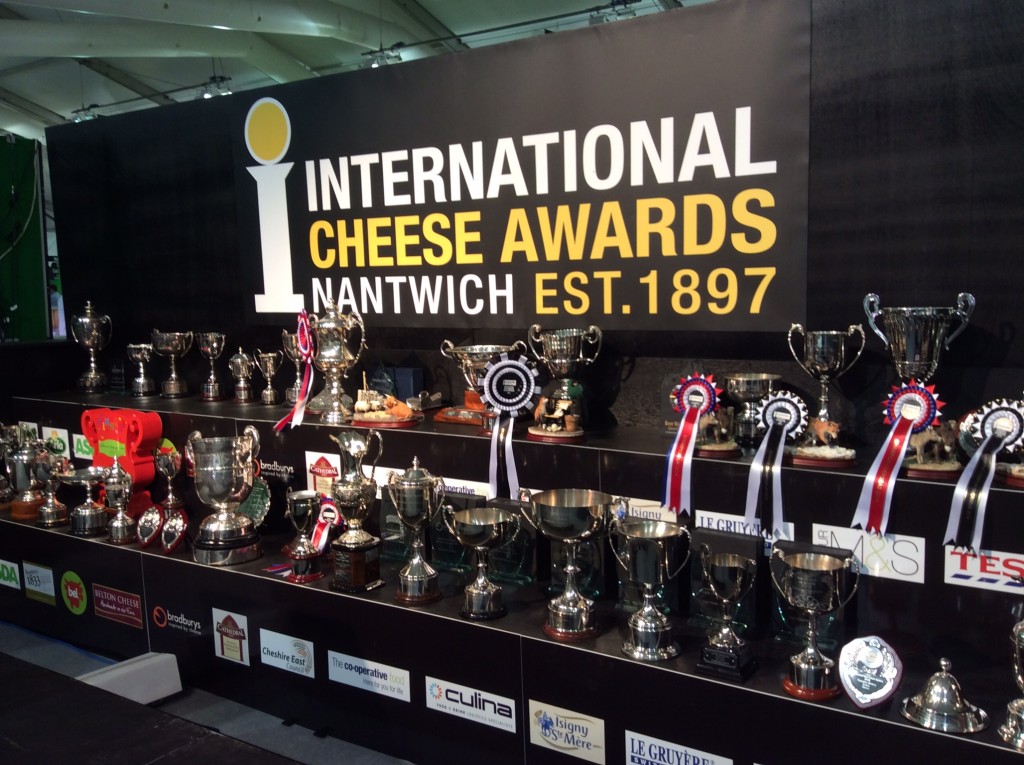 There were cheeses from 26 countries; goats cheese; sheeps cheese; cheese aimed at kids; cheese for cheese likers and cheese for cheese lovers, as well as some cheese and more cheese. It was a great opportunity to meet local producers and learn a little more about what they do. I'm a keen supporter of local food, low food miles and all that, and it's great to support a huge industry like the diary industry which as well as some big names, it is full of small artisan producers creating cheesy masterpieces.
Lunch, which was the most incredible sight I've seen in a while, saw 1,100 people sit down to a delicious meal, which did include plenty of cheese. It was the largest dairy hospitality event in the UK. We were very privileged to see some excellent cheesemakers inducted into the Guilde Internationale des Fromagers.
It was shortly after lunch that the winners were announced. The Supreme Champion Cheese of 2014 was the Whole Blue Stilton from Colston Bassett. The best retailer was Waitrose, with Morrisons coming a close second. All the winners are on the International Cheese Awards website.
During the walk around it was nice to see some familiar faces from TV. On the day I spied chef Aldo Zilli, Sean Wilson and Charles Campion.
Although I wasn't able to get to the show day today to meet James Martin, a chum kindly offered to ask him a few questions on my behalf (thanks Liz).
I wanted to know how to interest children in trying more interesting, adventurous cheeses. James suggested that mozzarella is a great cheese to start off with, then maybe move on to more interesting cheeses such as Lincolnshire Poacher and Ogleshield, both have a softer texture but are tasty and ideal for small children.
I'm trying to cook more with my pre-school aged son, so I wanted to know a tasty, easy cheese recipe to make with him which wasn't the standard mac and cheese. James suggested a pan bagna, an easy layered sandwich made inside a crusty loaf, which is packed with attractive colours, is really easy to make, great for picnics and it's delicious.
And yes, he is apparently even more handsome in real life.
It was a real privilege to be invited to the trade day at the International Cheese Awards, next year I hope to go to show day too. It's a really interesting day out (especially if you go to the Nantwich Show as well) and you never know, you might discover something extra exciting to put on your cheese board.