Reading together is a big part of our evening routine. As a parent, the books I've most enjoyed reading to my son are ones that have been written with a rhyming structure like the Hairy Maclary books by Lynley Dodd or any of Julia Donaldson's books. I've always felt that these kind of children's poetry books were a wonderful gateway into the world of poetry.
I've picked out five children's poetry books which I either read a lot with my son, or I'm looking forward to reading with him when the times comes. I hope you enjoy my choices.
Each Peach Pear Plum by Janet and Allan Ahlberg. This has been a childhood classic for as long as I can remember. First published in 1978 this classic is full of rhyming couplets featuring almost every fairy tale character you can think of. The illustrations are a joy too, even though my son is getting a bit old for this book now, I still like to flick through it and savour the simple joy of it.
Kicking a Ball by Allan Ahlberg. This is a book my son likes to read out loud to us, it's full of action and action words and is the perfect poetry-story book for football fans.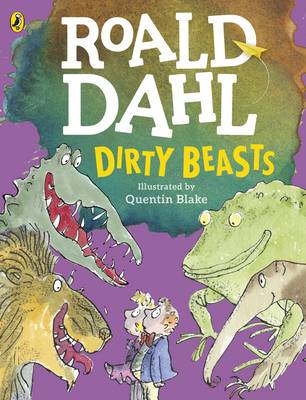 Dirty Beasts by Roald Dahl. No poetry round-up is complete without a Roald Dahl book. Dirty Beasts is a collection of poems about the foulest, most grotesque creatures in Roald Dahl's imagination. This was my copy from when I was a child and I've passed it down to my son who loves the disgusting rhymes and terrifying tales in Dirty Beasts. This is a treat for adults and children alike!
I'm a Little Alien by James Carter. This poetry book for 3-8 year olds covers all forms of life, from aliens, sharks, robots, snowflakes, moles and elephants. Each poem is full of joy and it's perfect for dipping in and out of with your little ones. We are big fans!
Poems to Perform, chosen by Julia Donaldson. This wonderful poetry collection has been chosen by Children's Laureate Julia Donaldson, it's ideal for children's groups and school classes to learn and perform, but equally it's a wonderful collection of poetry to have at home. Something you can dip in and out of. It's a collection for slightly older children, my son is 7 and he's only just starting to read and enjoy the poems from this book.
Reading and writing poetry at home is a great way to encourage a love of the written word. Poetry doesn't have to be hard work or hard to understand. It can be the start of a wonderful adventure with the written and spoken word.
What's your favourite children's poetry book?
This blog post contains affiliate links.